Every First Friday Night of the month!
D.O.B.O.
Dances on Behalf Of Hopes, Dreams, & Worries
Cynthia Winton-Henry
and
Amy Shoemaker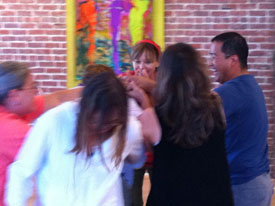 Oakland, CA
Once a month Every first Friday • 7-8 pm
Come to InterPlayce on the first Friday night of each month to chill, sing out, witness, move, or find center in a space where dancers, musicians, poets create art on behalf of your hopes, dreams, and worries for our world.

Join hands with friends and strangers.
Breathe, play a little, and drink in beauty and truth.
Stay late for beverages. Take in the Oakland Art Murmur, a great gallery hopping event in the neighborhood.
Cost:

FREE • Love offerings gladly accepted
Registration/Information:

Just show up! For more info call 510/465-2797

Venue
InterPlayce
2273 Telegraph Avenue (at 23rd St.)
Oakland, CA 94612
InterPlayce is the center of the InterPlay universe. The offices for Body Wisdom, Inc. are also located here. The building is at the corner of 23rd and Telegraph, one block north of West Grand. It is just a few blocks from the 19th Street Downtown Oakland BART station, and on several convenient bus lines. On-street parking is always available at night and metered during the day. It is also easily accessible by several of the major freeways.
Click here for a map.
Leaders
Cynthia Winton-Henry
Cynthia Winton-Henry, co-founder of InterPlay with Phil Porter, has researched "what the body wants" in the arts, in jails, shelters, slums, hospitals, churches, businesses, classrooms, doctoral programs in theology and the arts, and in multicultural education. She develops somatic curriculums to address racism, leadership for the Earth, and spiritual intelligence with an eye to supporting millennials. A featured speaker on the Body Intelligence Summit and a keynoter at conferences, Cynthia is the author of What the Body Wants, Having It All: Body, Mind, Heart & Spirit Together Again at Last; Dance - A Sacred Art: Discovering the Joy of Movement as Spiritual Practice; and Chasing the Dance of Life: A Faith Journey. Currently writing on Body Wisdom and Social Justice and on "Ensoulment," she coaches leaders seeking spiritual intelligence for our time at cynthiawinton-henry.com.
Amy Shoemaker
Amy is the Bay Area Regional Coordinator for InterPlay, an InterPlay teacher, Wing It! Member, and Spiritual Director living in San Francisco. She discovered InterPlay as a student at Pacific School of Religion and immediately took to it - like a fish to water. Amy is available for workshops and retreats nationwide.