Cheap food and lodging, pay-what-you-can tuition
InterPlay Camp in the Redwoods
Get dirty with Susan at camp! Breathe fresh tree-oxygenated air. Wash yourself clean in the river. Nap. Do one thing at a time. Experience life without stop lights, street lights...just stars!!!!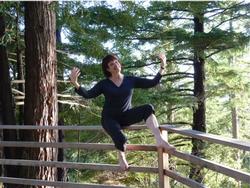 Philo, CA
August 16-18, 2013 • Friday 7 pm (dinner not included) through Sunday lunch (included)
Affordable Room & Board • Tuition: Pay what you can!
Susan Main will be joined by Stephanie Pile, Laurie Adams and Carol Ann Fusco.
Come to the redwoods for a refreshing weekend of InterPlay with Susan Main and a grand group of playmates. Take a big swig of grace at River's Bend Retreat Center nestled in wine country beauty near the town of Philo, 30 minutes from Northern California's scenic Pacific Ocean. Walk in nearby redwoods. Swim in the river. Enjoy a campfire. Sing camp songs with Stephanie Pile and Carol Ann Fusco and follow InterPlayer Laurie Adams, Director at River's Bend, to connect with this beautiful place on Earth in playful ways.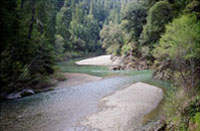 InterPlay leaders are invited to lead workshops one afternoon.
Susan Main has been a member of Wing It! Performance Ensemble since 1995 and led workshops internationally. She loves humor and truth-telling - well, she just loves Interplay. Two years ago she followed a dream to move to the small coastal town of Gualala, where she lives on her family's 40 acres in a 28 ft travel trailer while she slowly decides if/how/what to build a house (she's slow at major decisions!) She lives way off the grid with no water well or electricity and has used her active imagination, creativity and humor to come up with all sorts of ways to live simply yet comfortably." Susan is prepared to lead you to hang and loll about in inspired ways! Please bring a pad/towel/reclining beach chair that you would feel comfy lying on outside at night.
River cabins, pleasant rooms or tent cabins make InterPlay Camp an affordable journey (See costs below). Meals are lovingly prepared. Tuition for the event will be up to you: pay what you can! (Generally, the tuition for an event like this is in the $150 range.)
What to bring with you to River's Bend.
Schedule
Friday
Arrive Friday anytime (3 hours from SF)
Dinner on your own
7:00 pm gather and sing with Stephanie and Carol Anne, "InterPlay with Susan
Saturday
9:30 am sing-along with Stephanie and Carol Anne
10:00 "Susan Main
11:00 "Land Wisdom" with Laurie Adams
Lunch
2-4 pm Workshops led by campers
Free time
Dinner
7 pm Performing for each other led by Susan Main
9 pm Campfire
Sunday
9:30 Sing along
10:00 "Susan leads
Closing
Lunch

Afternoon outings and departures
Cost:

Room & Board: $245 for improved cabins/$215 for rustic cabins/$165 tent cabins/$135 for tents • Tuition: pay what you can!
Registration/Information:

Call the Body Wisdom Office at 510/465-2797 to register or contact Susan at mainsqueeze@wildblue.net and 707-239-2462

Venue
River's Bend Retreat Center
18450 Ray's Road
Philo, CA 95466
River's Bend Retreat Center is a beautiful, nurturing space for contemplation, ecological understanding and deep connection between land and people. It is located about 3 hours north of San Francisco near the town of Philo. It is nestled in the redwoods and is about 30 minutes from the Pacific Ocean.
Leaders
Susan Main
Susan Main has her BA in Dance and Theater from UC Santa Cruz and has been leading InterPlay and performing with Wing It! Performance Ensemble since 1995. She has taught the leadership program with Phil Porter. She infuses InterPlay into her 12-step recovery work, nature play, tap dancing, dance teaching, and life. Her specialty: creating a safe and playful haven for creativity and truth...and laughter. Laughter is the most healing activity there is in the world...in her humble opinion. She currently lives in Gualala on the wild North Coast of California and plans to make 2014 the beginning of Interplay get-aways there.