Accepting applications for July 2016 NOW!
Art & Social Change: InterPlay for Millennial Leaders
A life changing training for artists and activists age 18-35
Phil Porter
,
Cynthia Winton-Henry
,
Agnotti Cowie
, and
Soyinka Rahim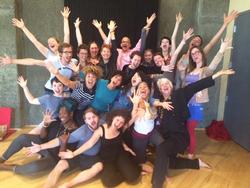 Oakland, CA
July 18–29, 2016 • Monday–Friday • 9 am–5 pm & some evenings
If you are between the ages of 18 and 35, you may be interested in joining a program that teaches InterPlay's "sneaky deep" way of building artistic skill, leadership ability and strong community.
Learn from InterPlay founders and millennial leaders preparing you to lead with creative, embodied InterPlay tools and techniques used around the world in peacemaking, prisons, classrooms, theaters, homes, places of worship, and health care.
Plus you get to play, visit Bay Area redwoods and social change organizations, get incredible support for your path and make some wonderful new friends.
Graduates are supported after the program to share leadership within the InterPlay community and beyond.
Explore ways to help people play with difficult issues, listen to and share the wisdom of their bodies and tell stories in ways that are direct, personal, and transformational.
The program takes place Monday through Friday over two weeks with some evening programming including a concert by the InterPlay performing company "WING IT!"
Download the brochure with the full details.
Download the Tuition Proposal if you need financial assistance. Email InterPlay co-founder Cynthia Winton-Henry at cynthia@interplay.org for an informational interview.
APPLICATION DATES
Deadline for application Friday June 3
Send in registration materials by and set up informational interview before June 3
Confirm attendance once accepted by June 10
Send $200. deposit by June 10
First installment or total due July 1
Training: July 18–29, 2016, Graduation Thursday 7pm, July 28
Program ends at noon July 29.
Cost:

$1400. Financial assistance and limited homestay options available
Registration/Information:

For more information call Cynthia Winton-Henry at 510/465-2797 or email cynthia@interplay.org

Venue
InterPlayce
2273 Telegraph Avenue (at 23rd St.)
Oakland, CA 94612
InterPlayce is the center of the InterPlay universe. The offices for Body Wisdom, Inc. are also located here. The building is at the corner of 23rd and Telegraph, one block north of West Grand. It is just a few blocks from the 19th Street Downtown Oakland BART station, and on several convenient bus lines. On-street parking is always available at night and metered during the day. It is also easily accessible by several of the major freeways.
Click here for a map.