Are you one of the 2013 15 emerging artist/activists age 18-32?
Art & Social Change: InterPlay for Millennial Leaders
Discover why activists are turning to InterPlay to build bridges and create healthy community.
Phil Porter
,
Amy Shoemaker
,
Cynthia Winton-Henry
,
Mary Sobrina Kuder
, and
Soyinka Rahim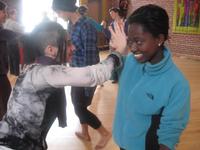 Oakland, CA
July 22–Aug 2, 2013 • Monday–Friday • 9 am–5 pm & some evenings
If you are between the ages of 18 and 32, this two-week program teaches InterPlay's "sneaky deep" way of building artistic skill, leadership ability and strong community. Learn many of the InterPlay tools and techniques with time to play, create, and get group and one-on-one support for your own artistic skills and activist interests.
The program takes place Monday through Friday for both weeks with some evening programming as well, including a concert by the InterPlay performing company "WING IT!"
Download a full brochure with the full details.
Can't imagine affording this program? Don't despair! Check out the full description and this Tuition Proposal and/or call InterPlay co-founder Cynthia Winton-Henry at 510/465-2797 to find out ways to make it work.
APPLICATION DATES
Intent to register by May 3
Send in registration materials by Friday May 17
Confirm attendance by June 7
Send deposit by June 10
First installment or total due July 8.
Training: July 22–Aug 2, Graduation Thursday 7pm, August 1
Cost:

$1200. Financial assistance and housing info available
Registration/Information:

For more information call Cynthia Winton-Henry at 510/465-2797 or email cynthia@interplay.org

Venue
InterPlayce
2273 Telegraph Avenue (at 23rd St.)
Oakland, CA 94612
InterPlayce is the center of the InterPlay universe. The offices for Body Wisdom, Inc. are also located here. The building is at the corner of 23rd and Telegraph, one block north of West Grand. It is just a few blocks from the 19th Street Downtown Oakland BART station, and on several convenient bus lines. On-street parking is always available at night and metered during the day. It is also easily accessible by several of the major freeways.
Click here for a map.