Playing to Change The World
an afternoon with Edgard Gouveia of Brazil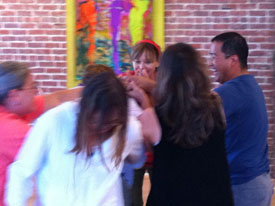 Oakland, CA
Saturday, February 18th, 3-5pm
YES!, InterPlay, and Oakland Peace Center are thrilled to invite you to a highly enjoyable afternoon with Edgard Gouveia. He is a master teacher of Cooperative Games, and we will begin the afternoon with play, discovering how games unlock the best qualities in human beings. With all our best energies present in the room, we will have then have an opportunity to hear of his past and present projects, and how we will be able to get involved in Playing to Change the World. Be among the first in the U.S. to learn about the Game!
Edgard's current project is the development of PlayTheCall. Using the strength of youth, the power of the internet, the creativity of play and the vision of abundance, he is co-creating an internet game that will be played in the real world. PlayTheCall will mobilize two billion people to network together in projects of social activism around the globe. The Beta test of the game will be launched in March with 70,000 Boy Scouts of Brazil, followed by 20,000 schools in Brazil, and a highly visible project in the Rio +20 project in June. The international game will be launched in December 2012.
Cost:

Pay what you can - donations support Play The Call
Registration/Information:

InterPlay office 510/465-2797, info@interplay.org

Venue
InterPlayce
2273 Telegraph Avenue (at 23rd St.)
Oakland, CA 94612
InterPlayce is the center of the InterPlay universe. The offices for Body Wisdom, Inc. are also located here. The building is at the corner of 23rd and Telegraph, one block north of West Grand. It is just a few blocks from the 19th Street Downtown Oakland BART station, and on several convenient bus lines. On-street parking is always available at night and metered during the day. It is also easily accessible by several of the major freeways.
Click here for a map.