Cosponsored by InterPlay
Damanhur: Creativity, Sacred Art and Sustainable Eco-Community
Damanhur is... Life in Action - Action through Play - Play integrated into Life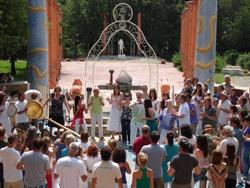 Oakland, CA
Wednesday, June 12, 7pm-9pm
Quaglia, a citizen of Damanhur will lead a special evening to experience Damanhur, Federation of Communities, based in the hills of northern Italy with about 1,000 citizens and members worldwide, active since 1975. Damanhur is a vibrant and evolving community that promotes peace and sustainability, with its own complementary currency system, constitution and schools. The citizens of Damanhur created the underground Temples of Humankind, a vast sacred space dug into a mountain with breathtaking visionary artwork to reawaken the Divine Spark.

This evening at InterPlayce includes experiences of
Damanhurian Sacred Dance
Inner Harmonization - a sounding meditation
Community building tools like the "Game of Life" - a system of innovation, spontaneity and playful transformation
Mystic Images of The Temples of Humankind
Selfica technology- activated objects made of metal spirals, inks and colors that enhance well-being and equilibrium
Tree Orientation- a technique to reawaken our alliance with trees and nature.
.
Quaglia is the first American citizen of Damanhur where her activities have spanned from Public Relations, ecovillage education, Temple guide, visual artist and spiritual healer with a passion for guiding journeys of awakening through Sacred Dance and Ecstatic Dance facilitation. Quaglia has ethnic origins in Taiwan and China and holds a Bachelor of Arts in Interdisciplinary Studies from the University of California at Berkeley. Back in the Bay Area she is bridging communities and creative inspiration which will include InterPlay's Art & Social Change Training.
Cost:

$10
Registration/Information:

contact Quaglia for more information (415) 755-7868 quail@damanhur.it www.damanhur.org To preregister call 510-465-2797

Venue
InterPlayce
2273 Telegraph Avenue (at 23rd St.)
Oakland, CA 94612
InterPlayce is the center of the InterPlay universe. The offices for Body Wisdom, Inc. are also located here. The building is at the corner of 23rd and Telegraph, one block north of West Grand. It is just a few blocks from the 19th Street Downtown Oakland BART station, and on several convenient bus lines. On-street parking is always available at night and metered during the day. It is also easily accessible by several of the major freeways.
Click here for a map.