Part of InterPlay's Art + Social Change for Millennial Leaders
"Flipping Cancer" A Performance with Marie Garlock from North Carolina
Developed with patients, caregivers, health providers facing life-threatening cancer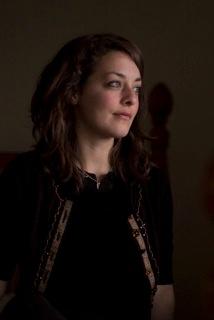 Oakland, CA
Monday July 28 @ 7:30pm
Come journey through mixed metaphors -- and other circumstances of blasphemy, irony, and spiritual curiosity in the adventurous surreality of health and illness. This 1 hr, 5 min performance installation featuring Rev. Stacy Grove's soundscapes & Geraldine Ondrizek's film installation "Cellular," is shaped by performance, dance, and critical ethnography research with persons who face life-threatening and metastatic cancer -- people across the nation and globe, including Garlock's own mother, caregivers, nurses/physicians, and patients; people who hope to shift the status quo of cancer and other economies of dis/ease.

In response to "survivor" and "(pink) ribbon" mentalities which many feel do not fully speak for them, the Flipping Cancer Project is curious about what the body in illness performs back, and about the process of inviting new and cross-cultural choreographies for health justice as we reimagine our relationship to dis/ease from the cellular to the clinical to the community level and back again.

Great for
- patients, people facing cancer (especially underserved persons dealing with metastatic, stage IV), and other life-threatening illness
- professional health providers (physicians, nurses, hospital/clinic staff)
- caregivers (family, friends, social networks) to those facing cancer, and those with loved ones who have transitioned
- scientists and cancer researchersk
- health advocates, including people who fundraise & organize events to support cancer issues
- spiritual leaders who work with persons facing life-threatening illness
- artists + health communication practitioners
....anyone curious about shifting the "status quo" of cancer cultures + communication ... all are welcome!

Bio: Marie Garlock is a dancer, storyteller, and facilitator getting her PhD in Communication at UNC and working in performance, health, and peacebuilding partnerships between NC, East Africa, and South Asia.

Cost:

$10-$25 sliding scale
Registration/Information:

Call the Body Wisdom Office at 510/465-2797 to register, or contact info@interplay.org

Venue
InterPlayce
2273 Telegraph Avenue (at 23rd St.)
Oakland, CA 94612
InterPlayce is the center of the InterPlay universe. The offices for Body Wisdom, Inc. are also located here. The building is at the corner of 23rd and Telegraph, one block north of West Grand. It is just a few blocks from the 19th Street Downtown Oakland BART station, and on several convenient bus lines. On-street parking is always available at night and metered during the day. It is also easily accessible by several of the major freeways.
Click here for a map.