A Workshop on Performing InterPlay and a Performance
Performing the Book
Sheila Collins - Warrior Mother: Fierce Love, Unbearable Loss, and Rituals that Heal
Judith Reichsman
and
Sheila K Collins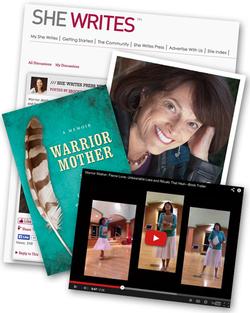 Brattleboro, VT
Oct 10, 11, 12, 2014
Sheila will teach InterPlay forms that lend themselves particularly well to performance in a workshop-playshop. Then she and InterPlayers local and from away will participate in Sheila's presentation of her book, Warrior Mother via dancing, singing and telling stories.
Cost:

Workshop both Fri and Sat: $50.00, Friday alone $25, Sat morning alone $35, Sat evening Performance - Suggested Donation $10-20
Registration/Information:

Judith Reichsman 802/579-3377

Venue
River Valley Aikido Dojo
11 Cottage St
Brattleboro, VT 05301
Cottage St runs between Maple St and Estey St, and is near the Brattleboro Memorial Hospital. The dojo is a beautiful old church, painted light purple/lilac. (11 Cottage St)
Leaders
Judith Reichsman
Judith Reichsman met InterPlay co-creators Cynthia and Phil at an InterPlay workshop in Berkeley, CA in 1989. She became an 'ecstatic follower' within a week of being introduced to it. She moved to Berkeley to go to Grad school where Cynthia was teaching so that she could to do more InterPlay and learn to teach it. Years later, she moved to North Carolina in order to do more InterPlay, and after 3 years of performing with interPlay NC's OFF THE DEEP END, moved back to Vermont to find 'InterPlaymates' there. She has Masters degrees in Dance and Theology and loves both leading and following, fullness & stillness, writing and playing.
Sheila K Collins
Sheila K. Collins
is the director of InterPlay Pittsburgh and the
Wing & A Prayer Pittsburgh Players
, an InterPlay-based performance troupe that assists human service agencies in accomplishing their noble purposes. A former professional dancer, Sheila describes herself as a "dancing social worker," since she has taught social work and co-founded and directed a behavioral health care clinic in Texas.
Sheila is the author of Stillpoint: The Dance of Selfcaring, Selfhealing and Warrior Mother: Fierce Love, Unbearable Loss and the Rituals That Heal. She's been known to travel the country enlisting InterPlayers to help her Perform The Book, demonstrating how InterPlay tools help us get through life's ordinary and extraordinary, "tough stuff."