in Concord MA, Milton MA and Connecticut
Changing the Race Dance: Supportive Practices to Move Forward
What Does Your Body Want?
Soyinka Rahim
,
CC King
,
Lisa Laing
, and
Lisa Ward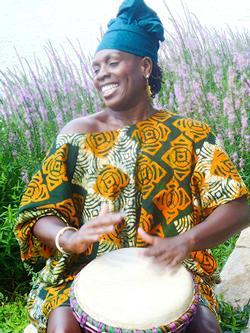 Concord, MA
October 12, 13, 14. Friday evening, Saturday 10-3 and Sunday 1-4. Come to one or all.
Explore meaningful questions and a hopeful community-based practice for addressing race, racism, and social action. With the creative, easy tools of InterPlay participants increase their understanding of experiences related to race and racism, strengthen ties to the larger community, find the inner-authority and confidence to act, and celebrate human experience.
Participants learn embodied ways to:
* share wisdom in stories, movement, and voices.
* welcome diverse expression
* open doors and widen circles of connection
* listen, witness, and affirm each other as we change the dance.
* engage our common, collective Earth and Body Wisdom
Saturday & Sunday sessions open to anyone age 12 or older.
Schedule
Friday All Ages Celebrate in Concord MA. 6pm Dessert Potluck and 7pm: "I Let My Light Shine" with Soyinka Rahim. Hopeful and heart-filled, Soyinka's music and leadership magnificently uplift anyone struggling to heal and move thru and around our understandings and misunderstandings about racism.
Saturday Workshop at First Parish in Milton MA: 10 am – 3:00 pm A day of practice, community, and wisdom that includes our dreams, our struggles, and ways to keep dancing.
Lunch: soup & bread provided, or bring your own (kitchen storage of food available).
Sunday Changing the Race Dance Workshop in Connecticut, 1-4pm. Contact Lisa Laing for information.
Cost:

free will offering of what you can afford. Suggested Donations: Friday $10-25 per family, Saturday $25-50, Sunday TBD
Registration/Information:

information and registration: ccking.interplay@gmail.com and in CT: kineticalchemy@gmail.com

Venue
First Parish in Concord
20 Lexington Road
Concord, MA 01742
Parking is available on the street and limited on the grounds. Accessible at side door off driveway, which is usually the best entrance.
Leaders
Soyinka Rahim
Soyinka Rahim, founder and director of OurThing Arts Company and BIBOLOVE, is a Certified InterPlay Leader. Soyinka has a long history as a member of the Bay Area's most renowned modern and ethnic dance companies. Her work taps into the power of sound and vibration to create peace and happiness for all humanity. In addition, she created the original, acclaimed Dance Play "An Alter Piece to Alter Peace," and has worked with passion for intergenerational community in schools and community centers all over the West Coast and U.S. Her work as a conference weaver and workshop leader includes Race Forward, National Association for Independent Schools Teachers of Color, Boys and Girls Clubs, Spiritual Directors International, and the Parliament of World Religions.
CC King
CC King is a certified InterPlay Leader and trainer, Boston-area coordinator and a memory play specialist. She has been practicing the joyous unfolding of Interplay for over 15 years. Play with elders and Memory Cafes are a special interest. CC is an expressive therapist, visual artist, teacher and community activist. As the co-founder of a local arts and environment program, she facilitates workshops in organic sculpture and organizes public performance. Her background includes nonprofit management, art and family therapy, trauma-informed InterPlay and a life-long commitment to finding sustenance, creative activism, and joy in the natural world.
Lisa Laing
Lisa Laing is a Certified InterPlay Leader, Modern Dancer, Certified Fitness Professional and Certified Cancer Exercise Specialist . Lisa incorporates the practices and forms of InterPlay in each of these aspects of her career. She has brought InterPlay to incarcerated women at York Correction Facility in CT, students at The Juilliard School, Yale Divinity School and to many spiritual groups as well as to elementary school aged children. It continues to be a privilege to co-lead a Cancer Wellness Group (Hope is Power), very much informed by InterPlay practices. Lisa is one of the Northeast Regional InterPay Leaders (as well as a Regional event coordinator) and has co-lead the InterPlay Life Practice Program and Secrets of InterPlay in the northeast with both Katrina Browne and CC King. "I am blessed to be a part of this world-wide community of creators, instigators, healers, nurturers, adventurers, huggers, grace-operatives, activists, artists; InterPlayers All!"