Changing the Race Dance & I Let My Light Shine
Soyinka Rahim
and
Lisa Ward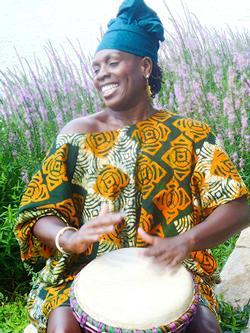 Milton, MA
Saturday October 5, 10am-Noon, lunch, 1-3pm
Soyinka Rahim will introduce the vital and uplifting tools of interplay to encourage discovery and affirmation of the experience of our lives. The focus is to move through and around our understandings and misunderstandings about racism.
We will explore together through the lens of music, movement and the sharing of our stories as they arise in creative interaction.
All are welcome. Any age. Any ability. Wear comfortable clothes.
Soup and bread will be offered at lunch. Feel free to bring your own lunch and/or a snack to share.
Cost:

Offering as you are able: $1 - 50; Can you cover another? Generosity to our unknown friends also welcomed!
Registration/Information:

information and registration: ccking.interplay@gmail.com and in CT: kineticalchemy@gmail.com

Venue
First Parish Milton
535 Canton Avenue
Milton, MA 02186
Leaders
Soyinka Rahim
Soyinka Rahim, founder and director of OurThing Arts Company and BIBOLOVE, is a Certified InterPlay Leader. Soyinka has a long history as a member of the Bay Area's most renowned modern and ethnic dance companies. Her work taps into the power of sound and vibration to create peace and happiness for all humanity. In addition, she created the original, acclaimed Dance Play "An Alter Piece to Alter Peace," and has worked with passion for intergenerational community in schools and community centers all over the West Coast and U.S. Her work as a conference weaver and workshop leader includes Race Forward, National Association for Independent Schools Teachers of Color, Boys and Girls Clubs, Spiritual Directors International, and the Parliament of World Religions.
Lisa Ward
Lisa is a certified Interplay leader, mother of two, and Unitarian Universalist minister. Born and bred UU, Lisa's first career was in theatre and film, specializing in ensemble work. She has served congregations for the last 28 years in Manhattan, Queens, White Plains, New York, Churchville, Maryland, and Milton, Massachusetts.

Ways interplay threads have woven in her life: Change the Race Dance, Competency with Discomfort (White affinity group addressing racism), UU minister and/or youth groups, occasional moments in worship, and ways to play with seeking wholeness when impacted with domestic violence.