Come play with your dreams in Georgia
Atlanta Dreaming
An Atlanta InterPlay Untensive
Christine Gautreaux, LMSW
,
Jennifer Denning
, and
Ruth Schowalter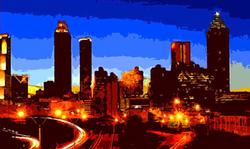 Decatur, GA
Friday, October 16th, 7:00 to 9:00 PM at Decatur First Christian Church; Saturday, October 17th, 9:30 AM to 9:30 PM at Decatur First Christian Church; Sunday, October 18th, 9:30 AM to 12:30 PM at Rising Phoenix T'ai Chi Studio
"Listen, whatever it is you try to do with your life, nothing will ever dazzle you like the dreams of your body...," writes Mary Oliver in her poem, "Humpbacks."Whether we are day dreaming, night dreaming, or dreaming up the possibilities for our lives, our dreams connect us to the larger view. Anything can happen in a dream. Let's play with dream stuff together in Atlanta, the home of Martin Luther King, where you can visit his memorial at the MLK Center and reflect on his life and dreams he had for us all. Join Atlanta InterPlay leaders, Jennifer Denning, Christine Gautreaux and Ruth Schowalter for a dreamy weekend of play. Un "tense," unwind, un "do." An Untensive is a multiple-day retreat that will gently immerse you in the easy-body practices of InterPlay's 25-year-old system. Create more connection and ease in your life! You will find new access to your stories, movement and voice. This is the easiest way to experience the powerful integration of mind, body, heart and spirit. It is also the quickest way to community connection. $100-$175 (sliding scale) for the entire weekend. Please mail your deposit of $50 by October 1, 2015, to Jennifer Denning at 1441 Deerwood Drive, Decatur, Georgia, 30030. Please contact Christine Nichols Gautreaux to find out about the few available homestays that are available.
Cost:

$100-$175 sliding scale, please pay what you can afford
Registration/Information:

Jennifer Denning at atlantainterplay.com, Ruth Schowalter at ruthtruth@mindspring.com, or Christine Gautreaux at cgautreaux@hotmail.com

Venue
Decatur First Christian Church
601 West Ponce de Leon Avenue
Decatur, GA 30030
Ample free parking. Go to the second floor and class meets in the Jerusalem room.
Leaders
Christine Gautreaux, LMSW
As a Licensed Master Social Worker, Christine uses InterPlay in a variety of settings and workshops with her peers and clients. She enjoys taking InterPlay and performance into underserved communities. She has worked with women in Lee Arrendale State Prison and the pre-trial detention center in Atlanta, GA. Christine also uses InterPlay with her Life Coaching Clients and in her workshops with foster/adoptive families. Dedicated to the pursuit of play, joy, laughter and love, Christine enjoys InterPlay, yoga, blogging, DCP, triathlons, family & friends and tea. Her superpowers include connecting people, helping folks manifest their dreams and juggling a full delightful life.
Jennifer Denning
Jennifer Denning is the co-founder of InterPlay Atlanta. She launched InterPlay Atlanta's offerings with women in prison and teaches weekly at The Atlanta Pretrial Detention Center. She also regularly leads InterPlay at Trinity House and The Friendship Center. She is an InterPlay Life Practice Program leader and directs Atlanta's InterPlay performance group, Soulprint Players.
Ruth Schowalter
Ruth Schowalter, visionary folk artist, communications educator and creativity coach, started The Daily Creative Practice to insure that her own art, dreams, and creative ideas get priority. Within InterPlay, an improvisational system that unlocks the wisdom of the body, she found all the tools she needed to put grace and an ethic of play at the center of life.