2nd Saturdays Community Play & Wisdom of the Body Group
ALL Day PLAY! Come to 1, 2, or both!!
NO classes on MAY 13 (come to Changing the Race Dance in MN)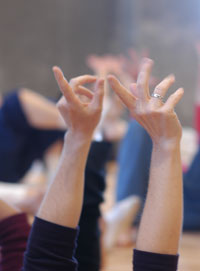 Chicago, IL
2nd Saturdays 10:00 -11:30 am ~ 12:30-3:30pm
NO CLASS ON SATURDAY, MAY 13-We'll be in MN playing with that Community for the Race Dance. Community Play 10:00-11:30 offers an introduction to InterPlay®—an active creative process for personal & community transformation. Through practical ideas and a system of practices rooted in storytelling, movement & sound; we gain access to our own "body wisdom" ~ what works best for us, what gives us purpose, what makes us feel fully alive. Wisdom of the Body ~Deep Play 12:30 - 3:30 pm If you are looking for nourishment, support & attention, this is the place to be. These sessions are designed for ample warm up, reflection and moving into deeper play through more noticing, witnessing, savoring and exploring InterPlay's body wisdom forms and tools. Views expressed are not necessarily those of Ravenswood Presbyterian Church. Workshop fees: Community Play $15 & Wisdom of the Body $45 All classes FREE for members of RPC Ask about our discounts for multiple classes! Cash or checks payable to InterPlay Chicago for information or 630/715-8590
Cost:

10 am $15/12:30pm $45 drop in ~ Discounts for multiple classes!
Registration/Information:

630/715-8590 InterPlayChicago@sbcglobal.net

Venue
Ravenswood Presbyterian Church
4300 N. Hermitage Ave
Chicago, IL 60613-1106
Leaders
Jane Siarny
Facilitator Jane Siarny, MFA, 200-CYT, Master InterPlay Leader, is dedicated to uplifting the human spirit through creativity, community and spiritual practice. Her training and inspiration draws from classical & modern dance, improvisation, singing, poetry, yoga and InterPlay. Jane currently teaches InterPlay, YogaPlay & Yoga and continues to train others in the InterPlay Life Practice & Leadership programs. In March 2017 she will be the new Coordinator of the InterPlay Life Practice Program. She led her first Life Practice group in 1999 and has led numerous groups since. She enjoys the transformational magic of InterPlay when folks dip their toe in or dive deeply. Her life has been enriched for over 2 decades by the healing, ease-filled, and life-changing system of InterPlay. From 1994-2004 she was co-director of the InterPlay based OUTABOUNDS Performance Company, performing and teaching throughout the U.S. Jane has also danced with professional ballet and modern companies; created/ directed touring educational programs, multi-cultural performance programs & dance schools. Jane's InterPlay story can be found in What The Body Wants by InterPlay co-creators Cynthia Winton-Henry and Phil Porter. Her ongoing research is entitled Creativity, Play & the Search for the Divine Dance in YOGA. She hopes to inspire others with programs that create grace, ease and renewal for body & soul.