Looking for more grace and ease in your life? Here begins that process!
Secrets of InterPlay - PA & OH 2017
Pittsburgh, PA, Cleveland, OH, Youngstown OH and beyond
Sheila K Collins
,
Phil Porter
, and
Lois McClendon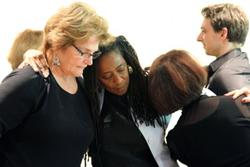 Villa Maria, PA
Fri noon – Sun 1 pm • Mar 31 – Apr 2, 2017
Learn ways to use in your daily life, the tools and ideas of the 25 year-old system known across the world as InterPlay! This event will be led by InterPlay Co-founder Phil Porter. Rediscover your own creativity as it is sparked in an affirming community.
This multi-day event will give you direct experience of many aspects of the InterPlay system, especially ways to unlock and trust the wisdom of your body.
Schedule
Fri Mar 31, noon – 9 pm
Sat Apr 1, 9 am – 9 pm
Sun Apr 2, 9:30 am – 1 pm
This workshop/playshop is an important element of the InterPlay Life Practice Program being offered beginning in Spring 2017 in Western PA and Eastern OH.
Continuing Education Credits
15 CE credits for RNs, MSWs, LPCs, MFTs are pending approval. No partial credits will be given. CE preregistration deadline is no later than March 16, 2017. Notify Body Wisdom staff at time of registration that you want CEs. A CE fee of $25 will be due at time of preregistration.
Please check the Commonwealth website for specific information regarding disciplines covered.
Cost:

$350 tuition + room & board ($115 double/$165 single)
Registration/Information:

Sheila K Collins 817/706/4967

Venue
Villa Maria Education and Conference Center
2067 Evergreen St
Villa Maria, PA 16155
between New Castle, Pennsylvania and Youngstown, Ohio on the picturesque grounds of Villa Maria Community Center, home of the Sisters of the Humility of Mary. Contains woodlands, meadows, pond, outdoor shrines, nature walkways, herb garden,and a working farm
Leaders
Sheila K Collins
Sheila K. Collins
is the director of InterPlay Pittsburgh and the
Wing & A Prayer Pittsburgh Players
, an InterPlay-based performance troupe that assists human service agencies in accomplishing their noble purposes. A former professional dancer, Sheila describes herself as a "dancing social worker," since she has taught social work and co-founded and directed a behavioral health care clinic in Texas.
Sheila is the author of Stillpoint: The Dance of Selfcaring, Selfhealing and Warrior Mother: Fierce Love, Unbearable Loss and the Rituals That Heal. She's been known to travel the country enlisting InterPlayers to help her Perform The Book, demonstrating how InterPlay tools help us get through life's ordinary and extraordinary, "tough stuff."
Phil Porter
Phil is one of the founders of InterPlay. He is a teacher, performer, writer, and organizer. With Cynthia Winton-Henry he is the co-founder of WING IT! Performance Ensemble, and has written several books, some in collaboration with Cynthia, including Having It All: Body, Mind, Heart & Spirit Together Again at Last and The Slightly Mad Rantings of a Body Intellectual Part One. Phil is particularly interested in the use of InterPlay in organizational life, and believes that InterPlay can be a powerful tool to create communities of diversity and peace.
Lois McClendon
Lois "Toni" McClendon is a Storyteller in the Oral Tradition, a peace & social justice activist. She is a graduate of the InterPlay Life Practice Program and a Certified InterPlay teacher, often found drumming with ABAFASI, a woman's drumming group, and teaching InterPlay at local libraries and community-based organizations. Toni is also a Life Practice Program Leader.