That Grace not violence or tragedy be the last word or a place or person.
InterPlay Art Response: 75th Year Observance of Day of Remembrance: Executive Order 9066
Never Again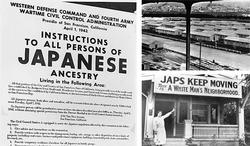 Berkeley, CA
February 19, 2:30-4
Each InterPlay Art Response involves movement, stillness, music and poetry to honor andrestore us to the deeper grace in a place where tragedy has happened. The purpose is that grace, not tragedy BE THE LAST WORD of any person or place!

February 19th is the 75th Anniversary of Executive Order 9066 which forced the mass incarceration of 120,000 individuals of Japanese ancestry over half of whom were children. First Congregation Church of Berkeley was one of the assembly points (http://berkeleyplaques.org/e-plaque/japanese-internment/) where church members are recognized for acts of kindness in the midst of this horror.

InterPlayers Angela Urata and Coke Tani invite us to mark this event in the current context of hostility to our Muslim brothers and sisters to highlight how folks show up for each other in times of crisis. "There was not a lot of outcry against the incarceration in 1942, " but there were ways that so many friends and neighbors did what they could to show their love. " One of the church members, "Ruth Kingman asked her church, First Congregational, to provide a dignified place for internees to assemble. The church offered Pilgrim Hall. For four days local church women came here to offer food and support while Berkeley's Japanese-Americans registered, then boarded buses for relocation camps."

From Vere Loper's notes, April 19, 1942: "The evacuation of the Japanese is taking place through our church.... A boy brings me the ashes of his father to keep in the church. A Buddhist wants to make a contribution to the church in appreciation of what we are doing... Mr. Takahashi and wife getting on bus. He planned the gardens at Treasure Island. She has tears in her eyes. He is silent... Mr. Sato gives us a dwarf tree and precious plant worth $500. Laughs even when tears come into his eyes. Mrs. Sato speaks of God's help. Japanese pastors are loyally present as every bus goes....A lieutenant directing evacuation complimented for the fine way the Army handles Japanese -- replies, "we do have to train some of the boys from the middle west that these people are Americans ...


Cost:

No Cost, Donations Welcome
Registration/Information:

Cynthia Winton-Henry at cynthia@interplay.org

Venue
First Church Berkeley, UCC
2345 Channing Way
Berkeley, CA 94704
First Church Berkeley is on the south side of the UC Berkeley campus just a block west of Telegraph Avenue. It faces Dana Street between Channing Way and Durant Avenue. It is about 6 blocks from the downtown Berkeley BART Station and right near several bus lines.