"Good Times" VIII Summer InterPlay Camp
"What is Your Dream Today?"
Betsey Beckman
and
Soyinka Rahim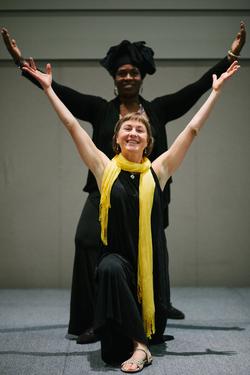 Vashon Island, WA
Friday, Sept 1st beginning with dinner at 5:30 (check-in begins at 4:00 pm) through Sunday, September 3rd 4:00 pm
"Good Times" Summer InterPlay Camp is celebrating it's 8th year! Join us for an awesome weekend of exploration and play!
With this dynamic duo, dip into the juicy play of vision supported by raucous song, create soulful collage where characters come to life through the magic of InterPlay, dance with nature and dream into the unpredictable creative spirit! Soyinka and Betsey offer the gifts of their friendship and the relaxed environment of camp to allow time for revelation and refreshment!
Cost:

Tuition: $300 + Housing ($250 triple)
Registration/Information:

Sharie Bowman at infoseattle@interplay.org

Venue
Camp Burton
9326 SW Bayview Drive
Vashon Island, WA 98070
Leaders
Betsey Beckman
Betsey Beckman, MM travels internationally and brings the tools of InterPlay wherever she goes - as dancer, storyteller, and spiritual director, as well as retreat, workshop and pilgrimage leader. With her extensive background in performance, movement therapy, ministry and InterPlay, she is regularly featured as artist/presenter at national conventions as well as local churches. Betsey's storydance series of DVDs feature riveting performances and include participatory InterPlay workshops to break open the scriptural stories with embodiment. Betsey's co-authored book, Awakening the Creative Spirit: Bringing the Arts to Spiritual Direction, offers numerous InterPlay exercises for integrating into soul-care ministries. She has been leading SpiritPlay classes in the Seattle community for the past 17 years, and has been a member of the local InterPlay Sounding Board for the past 12 years. Betsey offers the gift of playful improvisation whenever possible!
Soyinka Rahim
Soyinka Rahim, founder and director of OurThing Arts Company, is a Certified InterPlay Leader. Her CD, Bibo Love launched in 2016.

Soyinka has a long history as a member of the bay area's most renown modern and ethnic dance companies. Her work taps into the power of sound and vibration to create peace and happiness for all humanity!,In addition, she created the original, acclaimed Dance Play "An Alter Piece to Alter Peace," and has worked with passion for intergenerational community in schools and community centers all over! Her work as a conference weaver and workshop leader includes Race Forward, National Association for Independent Schools Teachers of Color, Boys and Girls Clubs, Spiritual Directors International, and the Parliament of World Religions