Let's splash in the river of goodness
A Time For Joy
The world needs our serious play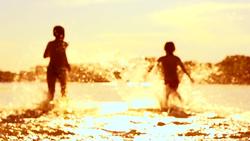 Berkeley, CA
Sunday, June 4th, 4 to 6pm
When you do things from your soul, you feel a river moving in you, a joy. Jalaluddin Rumi

Our joy is a form of power. It guides us to who we really are. It helps us see what is actually possible. When we reconnect with joy, we have more capacity for navigating the impossible. The world needs our joy.

Within each of us, a river of joy resides. Sometimes it flows freely, and sometimes, because of the many challenges we face in society, it is frozen. In this class for both seasoned InterPlayers and first timers we will use movement, storytelling and song to reconnect to the goodness that flows through each of us and discover how lightness and laughter are serious tools for creating a more just and inclusive world.

If you're shy, "not a dancer" or the word "play" makes you nervous, we especially extend an invitation to you. Please join us and discover how good it feels to be in a space that only requires that you be yourself.

During and after class you will experience: • Practical tools for more ease • A deeper connection to your self and community • Belief in the power of joy • A sense of possibility • A time for play, fun and reflection • Music that you can't not move to!
Cost:

$25
Registration/Information:

Call, (510/292-3483) or email, kelseyblackwell22@gmail.com

Venue
Center for Transformative Change
2584 M.L.K. Jr Way,
Berkeley, CA 94704
Parking on street. Enter through front wooden gate and follow the pathway to the left of the building which leads to the meeting space and outdoor patio.
Leaders
Kelsey Blackwell
Kelsey Blackwell is a full-time freelance writer and the Bay Area Director of Social Engagement for Shambhala, a meditation community dedicated to the principle that every human being has a fundamental nature of basic goodness. Her writing has appeared in Cooking Light, Southern Living, Delicious Living and The Arrow: A Journal of Wakeful Society. As a meditation guide and discussion leader, Kelsey offers experiential activities incorporating mindfulness and "bodyfulness" to experience our inherent human worthiness. On her blog, TheMarvelousCrumb.com, Kelsey writes transparently about race, identity, belonging, dating, and curly hair.