Vocal Play, Wisdom and Sanctuary
The Liberating Voice: 4 Days of Events
InterPlay Australia cofounder ignites four days of vocal joy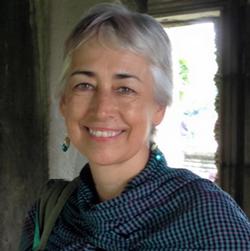 Oakland, CA
Oct 7-10, 2017 • Sat 1-5 pm, Sun 2-4:30 pm, Mon 12-5 pm, Tue 1-4 pm & 7:30-9 pm
Sat Oct 7
1-5 pm • Voice Voice Voice!
Explore vocal InterPlay scaffoldings for creating songs, ditties, harmonies and rhythm ostinatos/patterns. Then, lean into vocal freedom to play, release and open to the gifts of life.
Sun Oct 8
2-4:30 pm • Sanctuary
Uplifting, peaceful chants to bring calm for the mind, soothe the soul, and rest the body. A sanctuary experience of community singing.
Mon Oct 9
12:30-5 pm • 30 minute Individual Sessions.
Contact Trish at
mailto:trish@vmtoceania.com
to schedule.
Tues Oct 10
1-4 pm • The Moving Voice Workshop
Small group session of 4-6 people.
7-8:30 pm • The Liberating Voice
Trish performs stories and songs rooted in the struggle to free the voice around the world.
Cost:

$65 per section/$220 for all four, a $40 discount. Monday Private sessions arranged separately
Registration/Information:

Body Wisdom, 510-465-2797 or info@interplay.org

Venue
InterPlayce
2273 Telegraph Avenue (at 23rd St.)
Oakland, CA 94612
InterPlayce is the center of the InterPlay universe. The offices for Body Wisdom, Inc. are also located here. The building is at the corner of 23rd and Telegraph, one block north of West Grand. It is just a few blocks from the 19th Street Downtown Oakland BART station, and on several convenient bus lines. On-street parking is always available at night and metered during the day. It is also easily accessible by several of the major freeways.
Click here for a map.
Leaders
Trish Watts
A singer, songwriter, and educator with over 35 years experience as a performer, animator and creative arts facilitator in Australia and overseas. Co-founder of InterPlay Australia, she has completed studies in Voice Movement Therapy in the US. Trish has published over 8 collections of original music. She has been Music Director for both the Sydney and Cambodia Threshold Choirs, groups that sing at the bedsides of those struggling to live and die. She offers workshops and retreats in singing, creativity, spirituality and body wisdom. For more info see the
International Association for Voice Movement Therapy
,
InterPlay Australia Association
, and in the US: www.Interplay.org