Trish Watts, Co-Founder of InterPlay Australia is collaborating with Minnesota's Gem, CathyAnn Beaty
Sanctuary
Vitality, Resilience and Refreshment
CathyAnn Beaty
and
Trish Watts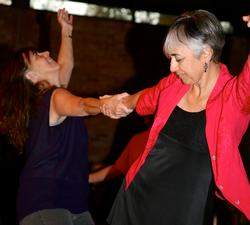 Minneapolis, MN
Oct 20-22, 2017 Friday, Oct 20, 6-9pm Saturday, Oct 21, 9:30-5:00 Sunday, Oct 22, 1:00-5:00
Playing with building resilience in our bodies and the group body. Creating environments of nourishment, healing, and stillness. Savoring the good, drinking in beauty, allowing and touching wonder. In these challenging times, come and know ease, creativity and community.
Cost:

Cost $225 (or $50 per session: Fri evening, Sat morning, Sat afternoon, $75 for Sunday)
Registration/Information:

Register with CathyAnn: soulplayca@gmail.com or 952/212-1161

Venue
Spring House Ministry Center
610 West 28th Street
Minneapolis, MN 55408
Between Lyndale and Garfield Avenues on 28th street. PARKING: In parking lot next to building park at "SpringHouse Only" Signs (6) and spaces with no signs (20). The only place you can't park at are signs that say "24 Hr Reserved". There is also street parking on Lyndale and 28th and a big lot behind the Jungle Theater.
Leaders
CathyAnn Beaty
CathyAnn Beaty, MDiv, is a master InterPlay leader, dancer and visual artist. She has been working with ongoing groups of therapists, clergy and other helping professionals for the past 12 years through her business SoulPlay, www.soulplay.org and has developed new approaches to healing based both on her professional and personal experience. CathyAnn is an ordained minister and began her InterPlay journey in 1989 when serving as pastor at Spirit of the Lakes UCC. She got her Masters of Divinity at United Theological Seminary of the Twin Cities in 1984 and did her Clinical Pastoral Education at Hennipen County Medical Center in Minneapolis. She served three parishes over 15 years. CathyAnn leads the InterPlay Life Practice Program, The InterPlay Way, performance workshops, couples classes, mentors leaders in training and directs SoulPlay Performance Ensemble. She has taught InterPlay in India, Australia and around the United States.
Trish Watts
A singer, songwriter, and educator with over 35 years experience as a performer, animator and creative arts facilitator in Australia and overseas. Co-founder of InterPlay Australia, she has completed studies in Voice Movement Therapy in the US. Trish has published over 8 collections of original music. She has been Music Director for both the Sydney and Cambodia Threshold Choirs, groups that sing at the bedsides of those struggling to live and die. She offers workshops and retreats in singing, creativity, spirituality and body wisdom. For more info see the
International Association for Voice Movement Therapy
,
InterPlay Australia Association
, and in the US: www.Interplay.org