Not planning on living forever? Mght we need to know more about dying?
Dying To LIve Workshop and Cabaret
Pittsburgh Welcomes Cynthia and Stephen Winton-Henry
Lynn Coghill
,
Sheila K Collins
, and
Cynthia Winton-Henry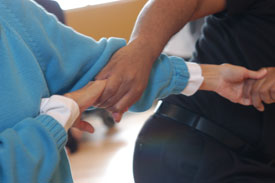 Pittsburgh , PA
Thursday Oct. 19th 7 - 9 pm
Rev. Stephen Winton-Henry, hospice chaplain-grief educator and Cynthia Winton-Henry, cofounder of InterPlay are dying to live. Good at helping people get into and out of their bodies, in the Dying to Live Tour and Cabaret they share lessons and welcome wisdom around the biggest dance we do: Live and Die. Using the old ways of music, stories, and dance we'll Toast one another, write our names in the book of life and touch on the four key body wisdoms of the Dying to Live Cabaret. Death role at the sacred center of life Death is not a solo dance Death requires a band of angels We have an obligation to die well
Cost:

suggested donation $10
Registration/Information:

call 817 706-4967 for more information

Venue
Persad Center
5301 Butler Street
Pittsburgh , PA 15201
Easy access Parking in the front of the building. Persad is in the left hand corner of the complex.
Leaders
Lynn Coghill
Lynn came to Pittsburgh originally as a member of the Pittsburgh Ballet. She currently directs the MSW program at the University of Pittsburgh School of Social Work. Recently she received top honors in Pennsylvania as Social Worker of the Year. She is a certified cognitive therapist who specializes in the treatment of anxiety disorders and complicated bereavement. Lynn explores using dance as a part of worship and using the arts to heal trauma in international settings.
Sheila K Collins
Sheila K. Collins
is the director of InterPlay Pittsburgh and the
Wing & A Prayer Pittsburgh Players
, an InterPlay-based performance troupe that assists human service agencies in accomplishing their noble purposes. A former professional dancer, Sheila describes herself as a "dancing social worker," since she has taught social work and co-founded and directed a behavioral health care clinic in Texas.
Sheila is the author of Stillpoint: The Dance of Selfcaring, Selfhealing and Warrior Mother: Fierce Love, Unbearable Loss and the Rituals That Heal. She's been known to travel the country enlisting InterPlayers to help her Perform The Book, demonstrating how InterPlay tools help us get through life's ordinary and extraordinary, "tough stuff."
Cynthia Winton-Henry
Cynthia Winton-Henry, co-founder of InterPlay with Phil Porter, has researched "what the body wants" in the arts, in jails, shelters, slums, hospitals, churches, businesses, classrooms, doctoral programs in theology and the arts, and in multicultural education. She develops somatic curriculums to address racism, leadership for the Earth, and spiritual intelligence with an eye to supporting millennials. A featured speaker on the Body Intelligence Summit and a keynoter at conferences, Cynthia is the author of What the Body Wants, Having It All: Body, Mind, Heart & Spirit Together Again at Last, Dance: A Sacred Art: Discovering the Joy of Movement as Spiritual Practice, and Chasing the Dance of Life: A Faith Journey,. Currently writing on Body Wisdom and Social Justice and on "Ensoulment," she coaches leaders seeking spiritual intelligence for our time at cynthiawinton-henry.com.