Enjoy Body Wisdom in a World Changing Context
InterPlay at the Toronto Parliament of World Religions
The Prmise of Inclusion, The Power of Love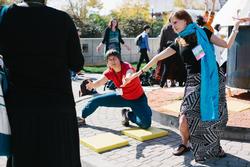 Toronto, ON
Nov 1-7 2018
The 2018 Parliament of World Religions is coming to Toronto "More than a symbol, the Parliament is an instrument of peace.".
30 Interlayers have pre-enrolled to be led by Cynthia Winton-Henry
tin daily meet ups, sitting together in plenaries, contemplative flash mobs, meals, and the "The Sacred We" Parliament workshop. Join in this powerful time of reflection, prayer, and community with support from the wisdom of the body. To be part of the InterPlay contingency enroll yourself on the
Parliament site
. Then register with InterPlay to be looped into specific activities. Donate at the level of your ability to support Body Wisdom leadership and organizing.
The Sacred We celebratory workshop
introduces participants to the easy social artistry practice that bridges people through personal story-telling, movement, voice and sharing wisdom. InterPlay was introduced by Masankho Banda at the 2004 Parliament of World Religions in Barcelona and invited again to Salt Lake City in 2015. In this workshop, InterPlay cofounder, Cynthia Winton-Henry with leaders from diverse racial and religious traditions, guides women, youth and men to share simple ways to • Build community and communicate across languages and traditions. • Easily unpack a day of experience at the Parliament. • Tap the power of the moment through artful sharing open to everyone. • Breathe and release tension. • Learn from one another in relational exchanges that lead participants to a world where mind, body, heart and spirit, and both the individual and group feel balance.
Cost:

0 to -$500 donation, does not include travel room, or board.
Registration/Information:

Body Wisdom, 510-465-2797 or info@interplay.org

Venue
Metro Toronto Convention Center
222 Bremner Blvd
Toronto, ON ON M5V 3L9
Leaders
Cynthia Winton-Henry
Cynthia Winton-Henry, co-founder of InterPlay with Phil Porter, has researched "what the body wants" in the arts, in jails, shelters, slums, hospitals, churches, businesses, classrooms, doctoral programs in theology and the arts, and in multicultural education. She develops somatic curriculums to address racism, leadership for the Earth, and spiritual intelligence with an eye to supporting millennials. A featured speaker on the Body Intelligence Summit and a keynoter at conferences, Cynthia is the author of What the Body Wants, Having It All: Body, Mind, Heart & Spirit Together Again at Last, Dance: A Sacred Art: Discovering the Joy of Movement as Spiritual Practice, and Chasing the Dance of Life: A Faith Journey,. Currently writing on Body Wisdom and Social Justice and on "Ensoulment," she coaches leaders seeking spiritual intelligence for our time at cynthiawinton-henry.com.