SpiritPlay: Practices of Love for the Life of the World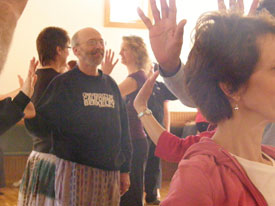 Seattle, WA
Saturday, February 17th 4:00-5:45 pm
In this session, we will explore gesture and movement as we start off the season of Lent with an embodied exploration in community. All ages are welcome.
No charge; this workshop is made possible by a grant from the Calvin Institute for Christian Worship.
Schedule:
4-5:45pm: SpiritPlay session
6-7pm BBQ dinner
7-7:30pm closing session
Rainier Beach Presbyterian Church
RSVP 206.722.8170
Cost:

FREE
Registration/Information:

RSVP 206.722.8170

Venue
Rainier Beach Presbyterian Church
9656 Waters Ave S
Seattle, WA 98118
Leaders
Lori VanderBilt
Lori VanderBilt enjoys the way Interplay helps her be more playful and lighthearted. As a leader, she finds that Interplay's engaging improvisational forms, using movement, storytelling, and voice, and its body wisdom tools help people explore new ways of being and of connecting more deeply with their own wisdom. This inspires people to have more of the life they want. Lori is excited about offering other therapists and helping professionals the opportunity to unlock the wisdom of their bodies while supporting them in their personal and professional lives. Lori also enjoys teaching SpiritPlay--a playing with liturgical seasons, forms of worship and prayer, and spiritual practice. For 20 years, Lori worked as a counselor integrating spirituality into the work with her clients. Lori also loves to walk, and has practiced yoga for many years.