Our playful selves in connection and communication with nature
Earth, Wind, Water & Play: An InterPlay Camping Adventure
Swim with the fishes, Dance under the Stars, Find stillness with the trees
Natalie Abdou
and
Agnotti Cowie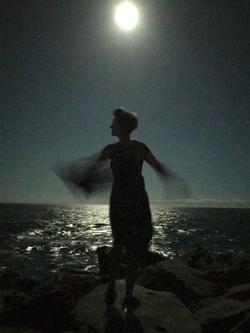 Orinda, CA
July 4th - July 7th
Do you crave both the stillness that nature has to offer in balance with all the creativity and playfulness it inspires?
Then come join us for an InterPlay Camping Trip in the East Bay, CA from July 4th-7th, 2018—a 3-night InterPlay camping retreat that invites us to bring the fullness of our playful selves in connection and communication with nature.
We will have the chance to indulge in the spectrum of playfulness that is offered during our stay at Tilden National Park in the East Bay near Berkeley, CA. We will take guidance from the land and trees that surround us to find our balance of movement and stillness—InterPlaying with one another and nature, moments for quiet and rest, time for swimming, the making and sharing of meals, circling around the fire pit, and the witnessing of July 4th celebrations from atop a hill overlooking the Bay area.
Our time together is really our own to create—with a simple and sincere intention of getting to spend more time with one another and indulge in the goodness that the wild and summer of California has to offer.
We will camp for 3 nights at Tilden National Park in the East Bay near Berkeley, CA. We have a basic camping site booked with a fire pit, out-house, and imaginary showers. A variety of amenities are available at the park and Lake Anza is within a 30-minute scenic hike from our site offering us the opportunity for water play and relaxation. You will need to bring or share: a tent, sleeping bag, water and BYOB breakfast and lunch items…although we are sure that there will be food sharing in true InterPlay nature!! To learn more about the park please visit Tilden Regional Park (see link below).
Your hosts Nik, Nat & Not – Nik Kurtz, Nat Abdou & Agnotti Benedict are super excited to welcome you and are eager to hear if you would like to join, lead a session during our time together or have other brilliant ideas to share. All are welcome (InterPlayers, new-to InterPlay, and kids), as always, and we hope that InterPlayers far and wide might consider joining so that we can cross-pollinate in nature-goodness. The campgrounds are smoke and alcohol-free.
The cost for 3 nights stay and transportation is $65-$110. Please feel free to contact Agnotti with any questions or to confirm your interest in attending. Please fill out the following registration form ASAP in order to register. More logistical details will be provided as we approach our weekend get-away, including a list of recommended items to bring along.
With a BIBO and hand dance in the wind,
> Nik, Nat & Not
Cost:

$65 - $110 Process through Paypal Or Venmo agnotti@gmail.com
Registration/Information:

email agnotti@gmail.com or call 773.595.0207 to register

Venue
Tilden National Park - New Woodland Campgrounds
2501 Grizzly Peak Blvd
Orinda, CA 94563
Leaders
Natalie Abdou
Interplay Bio I have been on a life-long journey of curiosity and creativity, and have spent the last 10+ years connecting and collaborating with diverse communities, in North America and the Middle East, by co-creating learning environments that are founded upon shared values of diversity, love, respect and self-empowerment - embracing a vision of solidarity, social justice and change from the inside-out. I weave in elements of embodied wisdom, Theatre of the Oppressed and other visual/movement/story arts into my practice and see/feel the arts as portals for personal and collective transformation, providing space for our souls to dance, breathe, heal and unleash the deep wisdom that resides within. That is why my heart exploded with resonance and childlike joy when I came into connection with Interplay in 2015 - since then I have had the gift of mentorship and leadership within the Arts & Social Change program, of mentoring alongside Cathy Ann in the Life Practice Program, and co-creating with Interplay POC community as we explore and better understand the ways in which this diverse unique group body plays. I feel deep gratitude for the way in which Interplay has danced its way into my life bringing with it so many quirks and magic.
Agnotti Cowie
Agnotti Cowie attended the first ever "Art & Social Change: InterPlay for Millennial Leaders" in 2010. Since, she joined InterPlay's national board as well as becoming a certified InterPlay leader. For the past two years, she returned to Oakland as a facilitator of the Art and Social Change training. Agnotti facilitates workshops worldwide employing a variety of pedagogical techniques such as InterPlay, Theatre of the Oppressed, and Devising. Currently she is based in Chicago where she does workshops in schools, organizations and with social movements. Recently, she has taken her work around the globe teaching workshops in Vietnam, India, and Germany.