Come connect with Masankho or Carolyn Renée
POC InterPlay Potluck—Oakland
You're invited to one near you!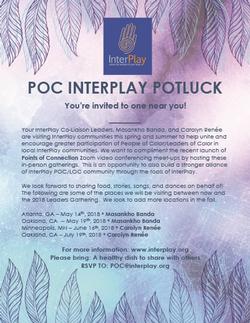 Oakland, CA
Sat, May 19, 2018 • 6–9 pm
Your InterPlay Co-Liaisons to Leaders of Color, Masankho Banda, and Carolyn Renée are visiting InterPlay communities this spring and summer to help unite and encourage greater participation of People of Color/Leaders of Color in local InterPlay communities. We want to complement the recent launch of Points of Connection Zoom video conferencing meet-ups by hosting these in-person gatherings. This is an opportunity to also build a stronger alliance of InterPlay POC/LOC community through the tools of InterPlay.
We look forward to sharing food, stories, songs, and dances on behalf of! The following are some of the places we will be visiting between now and the 2018 Leaders Gathering. We look to add more locations in the fall.
Atlanta, GA   May 14, 2018 • Masankho Banda
Oakland, CA   May 19, 2018 • Masankho Banda
Minneapolis, MN   June 16, 2018 • Carolyn Renée
Oakland, CA July 19, 2018 • Carolyn Renée

Please bring a healthy dish to share.
Cost:

Free
Registration/Information:

POC@interplay.org

Venue
InterPlayce
2273 Telegraph Avenue (at 23rd St.)
Oakland, CA 94612
InterPlayce is the center of the InterPlay universe. The offices for Body Wisdom, Inc. are also located here. The building is at the corner of 23rd and Telegraph, one block north of West Grand. It is just a few blocks from the 19th Street Downtown Oakland BART station, and on several convenient bus lines. On-street parking is always available at night and metered during the day. It is also easily accessible by several of the major freeways.
Click here for a map.
Leaders
Masankho Banda
Masankho is a multi - disciplinary Performing Artist, Certified InterPlay Leader, Educator and PeaceBuilder. He brings many unique perspectives to his work around the world. He learned the fine arts of storytelling and dance from his Malawian culture spending many long days and nights listening to stories and dancing to music that captivated his mind, shaped his being, nourished his soul and strengthened his spirit. Using performing arts Masankho motivates and inspires people of all ages to work together to bring about peace, social justice and cultural understanding. In 1997, he started UCanDanc? African Healing Arts to bring his passion for dance and storytelling to communities around the world. Masankho has been a Certified InterPlay Leader since 1999.