Come connect with Carolyn Renée
POC InterPlay Potluck—Oakland
You're invited to one near you!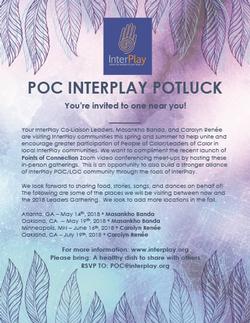 Oakland, CA
Thurs, July 19, 2018 • 5:30 pm
Your InterPlay Co-Liaisons to Leaders of Color, Masankho Banda, and Carolyn Renée are visiting InterPlay communities this spring and summer to help unite and encourage greater participation of People of Color/Leaders of Color in local InterPlay communities. We want to complement the recent launch of Points of Connection Zoom video conferencing meet-ups by hosting these in-person gatherings. This is an opportunity to also build a stronger alliance of InterPlay POC/LOC community through the tools of InterPlay.
This event will intersect with the Art & Social Change: InterPlay for Millennial Leaders that will be taking place. The POCs and Millennials will have a potluck at 5:30 pm and then at 7:30 pm, Art & Social Change participants will be doing an informal sharing and graduation that all are invited to attend.
We look forward to sharing food, stories, songs, and dances on behalf of! The following are some of the places we will be visiting between now and the 2018 Leaders Gathering. We look to add more locations in the fall.
Atlanta, GA May 14, 2018 • Masankho Banda
Oakland, CA May 19, 2018 • Masankho Banda
Minneapolis, MN June 16, 2018 • Carolyn Renée
Oakland, CA July 19, 2018 • Carolyn Renée

Please bring a healthy dish to share.
Cost:

Free
Registration/Information:

POC@interplay.org

Venue
InterPlayce
2273 Telegraph Avenue (at 23rd St.)
Oakland, CA 94612
InterPlayce is the center of the InterPlay universe. The offices for Body Wisdom, Inc. are also located here. The building is at the corner of 23rd and Telegraph, one block north of West Grand. It is just a few blocks from the 19th Street Downtown Oakland BART station, and on several convenient bus lines. On-street parking is always available at night and metered during the day. It is also easily accessible by several of the major freeways.
Click here for a map.
Leaders
Carolyn Renée
Carolyn Renée is a teaching and performing artist, InterPlay Leader, organizer and administrator. She serves humanity as an organizer, teaching artist and InterPlay Leader. Since 2006 she has been a teaching artist with Synchronicity Theatre's "Playmaking For Girls" (PFG) program that empowers incarcerated girls, refugees, and young women in foster care through play-writing, storytelling, and theater performances. Carolyn Renée has written two plays, one of which she received funding from Atlanta Mayor's Office of Cultural Affairs. In InterPlay, an organization that is committed to using the art of InterPlay; an art-based system to tap into the wisdom of the body and promote well-being, she has produced community showcases, taught homeless men and women, and organized racial equity and transformation workshops. She serves as a Co-Liaison Leader to InterPlay Leaders and People of Color. In May 2017, Carolyn Renée served as the lead organizer for the national InterPlay organization's first ever People of Color Retreat. She solidified her art and activist roots in her former roles as Arts Program Director with the Mississippi Arts Commission, and Executive Director of Alternate ROOTS, a nonprofit art and social change organization for artists-activists. For a decade her work with Alternate ROOTS, and the Mississippi Arts Commission afforded her the opportunity to work closely with social change artists, art producers and presenters; the nonprofit arts community, and a myriad of arts organizations throughout the southeast United States and the District of Columbia. Serving in an organizing role she helped create undoing racism workshops, mini-festivals, learning exchanges, retreats, showcases and conferences. In September 2018, she served as advisor to the Atlanta venue of the 50,000 Lions of Justice Festival in support of youth performers for more than 50,000 youth audience participants in nine states throughout the USA. Carolyn Renée believes the work of community organizing is like riding a bicycle, or swimming—once you know how you just never forget how to create superb opportunities for connection. She uses "Carolyn Renée" as her full name.