Connect to the wisdom of your body
Introduction to InterPlay: A 5 Week Series
A Playful Embodiment Tool For Daily Life and Leadership
Kelsey Blackwell
and
Annie-Rose London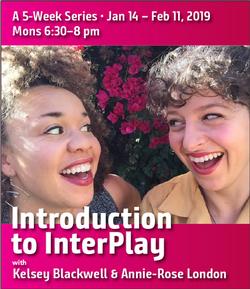 Oakland, CA
Mondays, 6:30 to 8:00 p.m. (Jan. 14 – Feb. 11)
Start the New Year with a deeper connection to your body. In this 5-week series we'll explore the foundational practices of InterPlay, a 30-year-old system using movement, storytelling and song to uncover the wisdom of the body. Join us as we practice
tools for cultivating more ease, flow and joy in 2019 and beyond.
In addition to supporting personal wellbeing, the InterPlay system offers playful practices that support interpersonal relationships, healthy group dynamics and embodied leadership.
Take these tools into your work, life, activism and facilitation.
This series will support participants to: • Connect more deeply with the wisdom of the body • Drop out of the head and into the present moment • Discover hidden resources for navigating uncertainty and doubt • Learn a joyful form of creative improvisation • Make wiser, more grounded decisions • Practice synchronizing mind and body • Name and claim more joy, freedom and expression
This class is open to anyone who wants to develop practices for more embodied living. In particular, we're creating space for for artists, activists, teachers, social workers, therapists, LGBTQ+ folks, PoC, healers and spiritual leaders.
Accessibility info:
This workshop is at InterPlayce, the home of InterPlay. Yay! The space is wheelchair accessible, with all activities happening at ground floor.
To support the space, please don't use any fragrances or scented products.
Join our
Facebook Group
for more info and to hear about more class offerings.
Cost:

$100 per person or $150 for you and a friend (that $75 each or 25 percent off)
Registration/Information:

Annie Rose London: annie.rose.london@gmail.com

Venue
InterPlayce
2273 Telegraph Avenue (at 23rd St.)
Oakland, CA 94612
InterPlayce is the center of the InterPlay universe. The offices for Body Wisdom, Inc. are also located here. The building is at the corner of 23rd and Telegraph, one block north of West Grand. It is just a few blocks from the 19th Street Downtown Oakland BART station, and on several convenient bus lines. On-street parking is always available at night and metered during the day. It is also easily accessible by several of the major freeways.
Click here for a map.
Leaders
Kelsey Blackwell
Kelsey Blackwell is a writer, meditation instructor and embodiment coach. Her writing has appeared in Cooking Light, Southern Living, Delicious Living and The Arrow: A Journal of Wakeful Society. As a meditation guide and discussion leader, Kelsey offers experiential activities incorporating mindfulness and "bodyfulness" to experience our inherent human worthiness. On her blog, TheMarvelousCrumb.com, Kelsey writes transparently about race, identity, belonging, dating, and curly hair.
Annie-Rose London
Annie-Rose London lives amongst the fields of sustainable design, community arts, and social justice through education, coaching and leadership. She has called herself a dancer, a burlesque clown, a ritualist, an arts educator, a wilderness guide, a non-profit director, an activist, a healer - today she calls herself happy to meet you. Until a recent dive into sabbatical, Annie-Rose served as the executive director of Berrett-Koehler Foundation, an Oakland-based intergenerational leadership and community non-profit. Her main influences are through InterPlay, the Earth Activist Training, Yes! Jams, and generative somatics. She currently is a resident organizer at the East Bay Moishe House, a Jewish community home. She studied biology and community art at Brown University. She has lived and worked on several land projects, including Short Mountain Sanctuary, Wolf Creek Sanctuary, Eden Village Camp, Desde Mi Huerto, and O.U.R. Ecovillage.