Help us celebrate Stillpoint: A Self-Care Playbook for Caregivers to Find Ease, Time to Breathe and Reclaim Joy
Finding and Living In the Stillpoint
Join authors Sheila K Collinis and Christine Gautreaux for this OMA Sponsored Event
Sheila K Collins
and
Christine Gautreaux, LMSW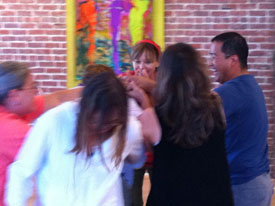 Pittsburgh , PA
Thursday March 21st. 6:30 refreshments program 7 - 9 pm
With the support of the Wing & a Prayer Pittsburgh Players this part lecture demonstration/ part improvisational InterPlay performance includes stories, poems, music, and dance, addressing the need for self-care and demonstrating the power of art to help the 45 million people, most of them women, who care for others in our society. Books available for purchase to be signed by the authors.
Cost:

by donation
Registration/Information:

contact Sheila at 817/706/4967

Venue
Twentieth Century Club
4201 Bigelow Blvd
Pittsburgh , PA 15213
parking across the street
Leaders
Sheila K Collins
Sheila K. Collins
is the director of InterPlay Pittsburgh and the
Wing & A Prayer Pittsburgh Players
, an InterPlay-based performance troupe that assists human service agencies in accomplishing their noble purposes. A former professional dancer, Sheila describes herself as a "dancing social worker," since she has taught social work and co-founded and directed a behavioral health care clinic in Texas.
Sheila is the author of Stillpoint: A Playbook for Caregivers To Find Ease, Time to Breathe, and Reclaim Joy and Warrior Mother: Fierce Love, Unbearable Loss and the Rituals That Heal. She's been known to travel the country enlisting InterPlayers to help her "Perform her Books," demonstrating how InterPlay tools help us get through life's ordinary and extraordinary, "tough stuff."
Christine Gautreaux, LMSW
As a Licensed Master Social Worker, Christine uses InterPlay in a variety of settings and workshops with her peers and clients. She enjoys taking InterPlay and performance into underserved communities. She has worked with women in Lee Arrendale State Prison and the pre-trial detention center in Atlanta, GA. Christine also uses InterPlay with her Life Coaching Clients and in her workshops with foster/adoptive families. Dedicated to the pursuit of play, joy, laughter and love, Christine enjoys InterPlay, yoga, blogging, DCP, triathlons, family & friends and tea. Her superpowers include connecting people, helping folks manifest their dreams and juggling a full delightful life.