Led by InterPlay cofounders and guest teachers
InterPlay as a Life Practice (drop-in)
This group will not meet June–August 2019.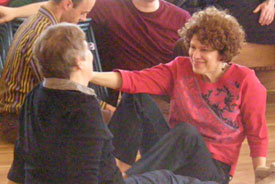 Oakland, CA
Fridays • 10:30 am – noon
This weekly class will not meet from June–August 2019.
Instead check out three Friday events that Cynthia will lead, one each month—SpiritPlay Summer Mini-Retreats beginning Friday, June 7, 2019 from 10:30 am to 3 pm.
*****************
Cynthia doesn't just play around, she plays like life depends on it. The co-founder and master teacher of InterPlay leads a meditative, fun-loving group with lots of room for stillness, body wisdom practices, and affirming community. Start with a warm up that doesn't require knowing your left from your right. Let that lead you into 10 to 15 minutes to listen to your own movement, stillness, voice, and silence. A great chance to tune in. Gather with others to share noticings and play with a body wisdom practice to support your life.
One of several ongoing drop-in classes offered at InterPlayce each week.
• Engage mind, body, heart, and spirit in an affirming, fun-loving practice with great teachers. Get yourself running on "all cylinders"!
• Make new friends! InterPlay classes create instant community.
• Learn body wisdom tricks and tools to make life easier.
• No experience necessary! InterPlay is accessible to people of all ages and abilities.
You can join this class at any point in the season, and take different classes as you choose.-->
Cost:

$15 per class • $48 for 4 classes (save $12!) • $90 for 10 classes (save $60!)
Registration/Information:

510/465-2797

Venue
InterPlayce
2273 Telegraph Avenue (at 23rd St.)
Oakland, CA 94612
InterPlayce is the center of the InterPlay universe. The offices for Body Wisdom, Inc. are also located here. The building is at the corner of 23rd and Telegraph, one block north of West Grand. It is just a few blocks from the 19th Street Downtown Oakland BART station, and on several convenient bus lines. On-street parking is always available at night and metered during the day. It is also easily accessible by several of the major freeways.
Click here for a map.
Leaders
Cynthia Winton-Henry
Cynthia Winton-Henry, co-founder of InterPlay with Phil Porter, has researched "what the body wants" in the arts, in jails, shelters, slums, hospitals, churches, businesses, classrooms, doctoral programs in theology and the arts, and in multicultural education. She develops somatic curriculums to address racism, leadership for the Earth, and spiritual intelligence with an eye to supporting millennials. A featured speaker on the Body Intelligence Summit and a keynoter at conferences, Cynthia is the author of What the Body Wants, Having It All: Body, Mind, Heart & Spirit Together Again at Last; Dance - A Sacred Art: Discovering the Joy of Movement as Spiritual Practice; and Chasing the Dance of Life: A Faith Journey. Currently writing on Body Wisdom and Social Justice and on "Ensoulment," she coaches leaders seeking spiritual intelligence for our time at cynthiawinton-henry.com.