InterPlay World News
Millennials Immerse Themselves in InterPlay in Toronto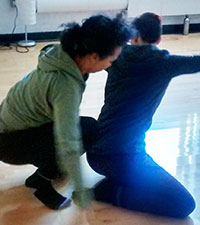 In March of 2015, InterPlay leaders Rehana Tejpar and Agnotti Cowie organized the first ever InterPlay Art and Social Change Weekend Untensive in Toronto, Canada.
Both leaders had participated in one of the summer Art & Social Change Programs in Oakland and Agnotti has recently been chosen to be the first Millennial Coordinator for InterPlay world-wide. Nine millennial artists, activists, educators, community organizers, healers, facilitators, and lifelong learners took part in the Toronto weekend.
Rehana reports:
"We made magic! People came with courage in the face of fear, trust in the face of distrust and openness in the face of cynicism. What unfolded was deep, beautiful connection.
"Whilst many participants attending had prior movement experience, it was noticed time and time again, the power of the InterPlay forms to bring us back to the body, to the moment, and trusting what comes. People shared that the InterPlay tools and forms—especially exformation, witnessing and the walkabout—were transformative practices to carry forward in their lives. What felt wonderful and affirming was the trust and compassion people shared, creating a space where it was safe enough to be vulnerable, to be ourselves. It was indeed, sacred."
This was the launch of InterPlay in Toronto and the beginning of a bi-monthly playgroup on Sundays from 2:30–4 pm at DANZon Studio and Arts Centre (2480 Dundas St W.) For more information, please email Rehana.
Thanks to All Who Contributed to Give InterPlay Day!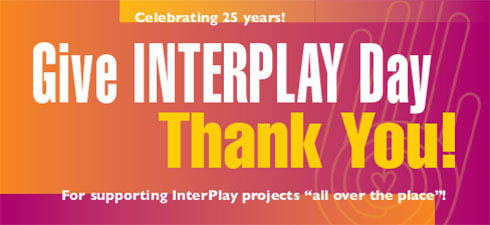 InterPlayers and friends from around the world were not "fooling around" on April 1, when they responded with almost $12,000 in contributions to a variety of InterPlay projects. Thanks to the 75 people who gave so generously!
Here is how the various programs were supported:
InterPlay Ambassadors to the Parliament of the World's Religions: $1311
Race Dances: $2625
Millennial Art & Social Change Program: $1524
InterPlay Pittsburgh's Town Criers: $546
InterPlay Proof Project: $385
InterPlay Entrepreneurs Project: $190
Seattle Millennial Scholarship Fund: $1812
InterPlay Atlanta Projects with Underserved Communities: $430
Community Mental Health Projects: $495
General Support for InterPlay: $2505
Anniversary Celebration Raises Inspiration and Funds!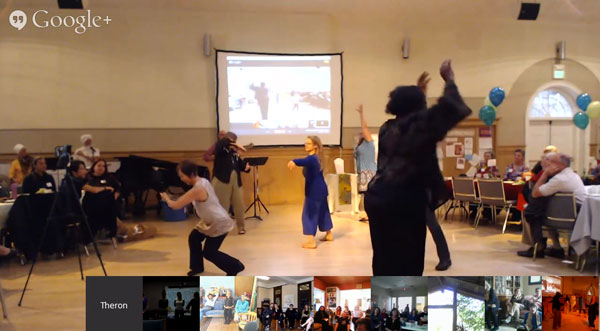 InterPlay is celebrating its 25th birthday, all year long!
We kicked off this Anniversary year on October 25, 2014, with celebration events in Oakland, Kansas City, Pittsburgh, Atlanta, Chicago, Goshen, Des Moines, Washington DC, Boston, Seattle and Minneapolis-St. Paul, all connected by live video. Thanks to the magic of Google Hangouts! In the photo you can see the scene in Oakland and along the bottom, images from the other groups that were connected online.
We heard stories of inspiration about how InterPlay's sneaky deep practices and principles are changing lives around the world. And we heard an inspiring Big Body Story from Phil Porter about how InterPlay is what the world needs right now.
This Anniversary Year is about celebrating all the leaders who have been the catalysts for InterPlay over the past 25 years, and investing in the next wave of InterPlay leadership. We'll have opportunities to celebrate leaders and InterPlay all year long—with InterPlay stunts, Story Chains, Leaders Gatherings and more!
We'll also be working this year to raise a special Anniversary Fund of $100,000, in addition to our regular budget, to invest in training and supporting new leadership.
With InterPlayers from around the world pitching in on October 25, we raised:
• $41,280 to kick off our $100,000 Anniversary Campaign, and
• an additional $27,440 to support InterPlay's ongoing annual activities around the world.
That's a total of $68,720 on October 25—it's inspiring to see what we can all do together!
If you missed out on the anniversary launch, don't worry-there are still lots of ways to play and celebrate this year. Check out the list of 25 Ways to Play in InterPlay' 25th Year.
Take a look at the YouTube recording of the whole shebang The video is long, so if you want to skip straight to Phil's Big Body Story, it begins at 1:19:00.
InterPlay is Sneaking Up on 25 Years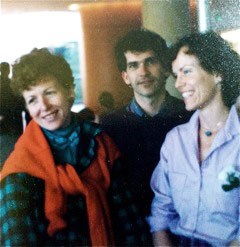 And the celebrating is about to begin!
This fall, InterPlay will be 25 years old. And we're imagining a whole variety of ways that the InterPlay community can participate in celebrating. We plan for the party to go on for a good long time. How often do you get to mark such an important occasion?
Watch for details about what might happen during this time of savoring and fun.
A bit of the history...
In the Fall of 1989, Cynthia Winton-Henry and Phil Porter offered the first workshop in a process they had named InterPlay.
The two had already been close friends and collaborators for almost ten years in a modern dance company called Body & Soul. Along with their colleague Judith Rock (at right in the photo above with Cynthia & Phil, probably from about 1984), they choreographed, performed and taught together all over the country and even beyond.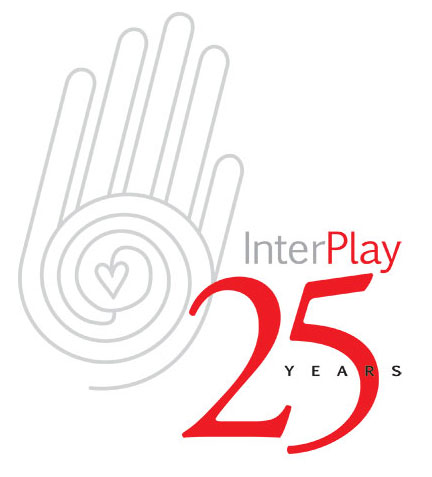 The work that Body & Soul did to explore the wonderful connections between physicality and spirituality was an important precursor to what came next. When Judith moved to New York, the company members went their separate ways, but it wasn&rsquop;t long before Cynthia and Phil reconnected to pursue their continued interest in creativity, revelation, wholeness and play.
They chose to focus on their shared interest in improvisation both as a performance modality and a way of exploring personal and community awareness. So they invited a bunch of their friends to come play (and to pay for it!) and they got together with Leo Keegan and Debra Weir to create the first performance of WING IT Performance Ensemble!
And the fun began.
For the past 25 years, the InterPlay philosophy and technique has continued to develop and grow and now folks are doing InterPlay in all sorts of different cities, states and countries in many different settings.
We will be plotting and planning ways to celebrate. If you have great ideas to add, let us know!
Free InterPlay Sample! Every First Sunday
Every first Sunday of the month, we offer an InterPlay Free Sample. The next one is on Sunday, January 4, 2015, from 2:00-3:15 pm in Oakland.
A free and easy "welcome" to InterPlay! Come for a sample of InterPlay's passionate, effective approach to changing the world! Easy, fun, life-changing! Learn about the latest and greatest developments in InterPlay and find out why InterPlay has spread around the world.
InterPlayce
2273 Telegraph Ave, Oakland, CA 94612
A few blocks from the Oakland 19th St. BART station.
Read why it might be important to give free rein to your right brain!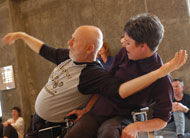 InterPlay Blogs
Read more about a wide variety of InterPlay-related topics on one of the three InterPlay blogs.
Items by Phil Porter about basic InterPlay wisdom for both individuals and groups.
Virtual Friday Morning InterPlay
Each week, Cynthia Winton-Henry creates a virtual InterPlay experience including stories, music, video, poetry and suggestions for simple dances. Get your InterPlay "fix" even if you can't make it to a class.
Each Monday, Cynthia shares observations and ideas in emails she sends to core members of the InterPlay community. This blog is a collection of those emails.