InterPlay World News
Give INTERPLAY Day Was a "Swimming" Success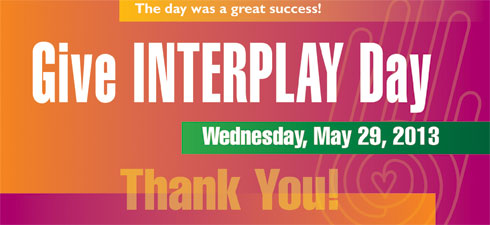 On May 29, InterPlayers from across the country participated in the second Give INTERPLAY Day. Together, we supported InterPlay India, the Race Dances Project, Reforming Arts work in Georgia prisons, InterPlay Community Service Projects, Scholarship funds and more. And we raised over $20,000 in one day!
The most exciting thing is that this is something we accomplished together, as a network of people who have personally seen the power of InterPlay and are investing our dollars and our hearts to help share that power with more people.
And since Give INTERPLAY Day happened during the Leaders Gathering at Bishop's Ranch Retreat Center in the Northern California wine country, we even held a spontaneous, first-ever InterPlay Swim-a-thon, which raised $1,000! Swimmers were Theron Shaw, Phil Porter, Jori Martinez Woods, Linda Schlabach Miller, Andrew Chen, Agnotti Cowie and Soyinka Rahim! (For the record, among the swimmers, Phil was the clear leader with 40 laps swum…)
Thanks to all who donated on Give INTERPLAY Day, and to all who helped organize and promote this new InterPlay "form."
InterPlay Adds to One Billion Rising on V-Day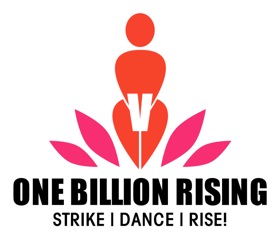 InterPlay is getting involved in One Billion Rising, a global event to demand an end to violence against women and girls on February 14, 2013 initiated by artist and activist Eve Ensler (of "The Vagina Monologues" fame.)
This event brings global attention to the one in three women on the planet who will be raped or beaten during their lifetimes. That's one billion violated women! Organizers are calling women and men to rise up, walk out, dance and say to the world: "Enough! The violence ends now!"
InterPlayers and others are encouraged to create their own action/witness or go to the One Billion Rising website to find an event nearby to get involved in.
In the San Francisco Bay Area, local InterPlayers can also take part in a Flash Mob organized by local/international artist and organizer Magalie Bonneau-Marcil. Magalie's project is called Her Rising which will also expand beyond the one-day February event. This choreographed piece will be performed and filmed on January 26 at 10 am (probably at Justin Herman Plaza in San Francisco's Embarcadero area) and then performed twice on February 14 in both San Francisco and the East Bay.
InterPlay co-founder Cynthia Winton-Henry is taking a major role in promoting the event and coordinating with Magalie, who is using InterPlayce for some of her rehearsals. InterPlayer Soyinka Rahim will also be teaching the choreography to intergenerational and intercultural groups in a variety of locations.
Cynthia has also created a structured improvisation using "caution tape," the yellow tape stretched around dangerous areas and crime scenes. InterPlayers are invited to download a pdf of this ritual and use it in their own locales. The words to a song "I'm Gonna Lift My Sister Up" are included in the ritual. Download a separate mp3 file of the music.
Bay Area folk are invited to contact Cynthia if they want to be connected in any way with any of these projects.
InterPlay Leaders Create Drama Out of the Mundane
At the InterPlay Leaders Gathering in North Carolina, co-founder Phil Porter had the group do a (currently unnamed) "form" that involves the dramatic telling of a mundane story. The form weaves made-up language, fake italian opera and an "extravagant" chair dance. (The whole form is done seated.) It made for some great photos of several of the leaders! Check out the short video/slideshow below!
Free InterPlay Sample! Every First Sunday
Every first Sunday of the month, we offer an InterPlay Free Sample. The next one is on Sunday, Dec. 2, from 2:00-3:15 pm in Oakland.
A free and easy "welcome" to InterPlay! Come for a sample of InterPlay's passionate, effective approach to changing the world! Easy, fun, life-changing! Learn about the latest and greatest developments in InterPlay and find out why InterPlay has spread around the world.
InterPlayce
2273 Telegraph Ave, Oakland, CA 94612
A few blocks from the Oakland 19th St. BART station.
Read why it might be important to give free rein to your right brain!
Millennial Artist/Activists Gather in Oakland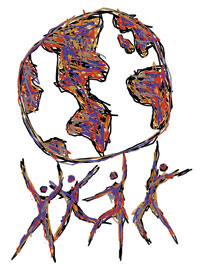 For the third summer, InterPlay gathered a group of artist/activists between the ages of 18 and 32 for a two-week program called "Art & Social Action: InterPlay for Millennial Leaders".
The program provides tools, support and connection for those who want to integrate their artistic interests, their social and political concerns and their day-to-day lives.
It was held at InterPlayce near downtown Oakland August 6-17, 2012. The eight participants in the program came from all corners of the country and represented diverse approaches to art and social action. Each was powerful and inspiring!
The program was lead by InterPlay cofounders Cynthia Winton-Henry and Phil Porter, local InterPlay organizer Amy Shoemaker and InterPlay intern and former program participant Sally Lynne Mitchell. Guest presenters also took part in leadership and WING IT! Performance Ensemble performed on one of the evenings.
Read more about this program...
InterPlay Leaders Visit Scotland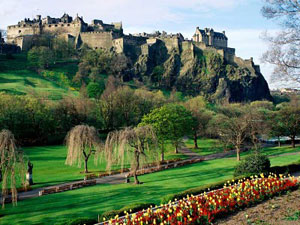 Mairi Campbell (photo below) is a musician, performer and teacher in Edinburgh, Scotland. She has produced several CDs and teaches special workshops for fiddlers on the Isle of Lismore in a "wee" cottage that has belonged to her family. She heard about InterPlay and took a giant leap into the deep end of the pool by coming to Raleigh, North Carolina, to take part in a week-long series of events led by InterPlay co-founder Phil Porter. She was charmed by InterPlay and

charmed all who had a chance to play with her during her time in the states.
Returning to her native Scotland and fueled by her desire to get more InterPlay training for herself, she organized several events over a few months, co-led by US InterPlayer leaders. In March, Caroline Kisiel who is from the Chicago area but also studied for several years in London, was in Scotland. In April, Asheville InterPlayer Darlene Kucken taught with Mairi and Tom Henderson and Ginny Going, from Raleigh, traveled there to share their wisdom in May.
We look forward to new InterPlay friends in Scotland!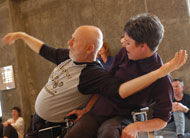 InterPlay Blogs
Read more about a wide variety of InterPlay-related topics on one of the three InterPlay blogs.
Items by Phil Porter about basic InterPlay wisdom for both individuals and groups.
Virtual Friday Morning InterPlay
Each week, Cynthia Winton-Henry creates a virtual InterPlay experience including stories, music, video, poetry and suggestions for simple dances. Get your InterPlay "fix" even if you can't make it to a class.
Each Monday, Cynthia shares observations and ideas in emails she sends to core members of the InterPlay community. This blog is a collection of those emails.