InterPlay World News
Phil to Teach in Europe in October 2014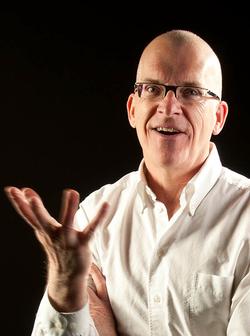 InterPlay co-founder Phil Porter will be traveling to Europe in October to teach in three different countries: Germany, Finland and Scotland.
Both Germany and Scotland have interesting and fun InterPlay communities that have developed over the past few years. This will be the first InterPlay visit to Finland where local InterPlayers are excited to spread the word.
Germany • October 8–13, 2014
Annegret Zander is a minister and retreat center director near Frankfurt, Germany. She found out about InterPlay many years ago as a seminary student at Pacific School of Religion in Berkeley, California, and was an active InterPlayer during her time in the US. When she returned to Germany, she began leading InterPlay there and has hosted both Cynthia and Phil on previous trips. Phil will be in Germany from October 8-13 and will be leading these events:
Teaching Practicum
Wednesday 5 pm – Friday 1 pm , Oct. 8-10, 2014
Haus der Jugend
Deutschherrnufer 12
60594 Frankfurt
Secrets of Leading
Friday 5 pm – Sunday 4 pm, Oct. 10-12, 2014
Gemeindehaus Enkheim
Laurentiusstr. 2
60388 Frankfurt
Full details for the Secrets of Leading in Germany…
Focus Sessions
Monday, Oct. 13, 2014, 9:30 am – 3 pm
Theaterschule Frankfurt
Berger Straße 316
60385 Frankfurt
Finland • Oct. 14-15
Outi Ruohola
(outi.ruohola@evl.fi +358 50 520 1357) found out about InterPlay when InterPlay co-founder Cynthia Winton-Henry was leading InterPlay in 2013. She also took part in the InterPlay trip to Scotland later that year. The events that she is organizing for Phil in Turku, Finland, are her first major foray into organizing InterPlay in Finland. Phil will be in Finland October 14-15, 2014 and will be leading over the course of two days:
Two-day Workshop
Tuesday &amp: Wednesday, Oct. 14-15 • Two day event from 10 am to 5 pm both days with an evening session on Tuesday from 6-9 pm. Come for the full event, just one day, or for the Tuesday evening event • Turku Christian Institute (Turan kristillinen opisto) It is possible to spend the night at the Institute on Tuesday night if you choose.
Scotland • Oct. 17–19, 2014
Mairi Campbell (mairi_campbell@hotmail.com), is a singer/songwriter/musician, with a long history of teaching and performing music in Edinburgh. She found out about InterPlay a few years ago and traveled to the United States to take some InterPlay workshops. Since then, she has devoted quite a bit of time and energy building the InterPlay community in Scotland. Last August, she helped organize a convergence of international InterPlayers in Edinburgh during the Fringe Festival, including InterPlay co-founders Phil Porter and Cynthia Winton-Henry and a group of folks from the United States, Australia and Europe.
Phil will be in Scotland from Friday, October 17-19, 2014 and will be leading these events:
Unlocking Our Creative Potential for Scotland's Future • Friday, Oct 17 • 10 am–4 pm • Gillis Centre, Strathearn Road, Edinburgh
Creativity and Confidence for Scotland's Future • Saturday, Oct 18 • 10 am – 1 pm • Scottish Storytelling Centre, Edinburgh
InterPlay Fundraising Ceilidh • Saturday, Oct 18 • 8 pm • Scottish dancing and InterPlay forms. Much fun! • Venue TBA
Workshop: Group Work for Teacher/Musicians • Sunday, Oct 19 • 10:30 am – 4 pm • Sponsored by the Traditional Music Forum and West of Scotland University • Glasgow
InterPlay is Sneaking Up on 25 Years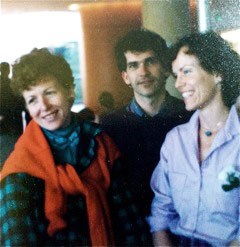 And the celebrating is about to begin!
This fall, InterPlay will be 25 years old. And we're imagining a whole variety of ways that the InterPlay community can participate in celebrating. We plan for the party to go on for a good long time. How often do you get to mark such an important occasion?
Watch for details about what might happen during this time of savoring and fun.
A bit of the history...
In the Fall of 1989, Cynthia Winton-Henry and Phil Porter offered the first workshop in a process they had named InterPlay.
The two had already been close friends and collaborators for almost ten years in a modern dance company called Body & Soul. Along with their colleague Judith Rock (at right in the photo above with Cynthia & Phil, probably from about 1984), they choreographed, performed and taught together all over the country and even beyond.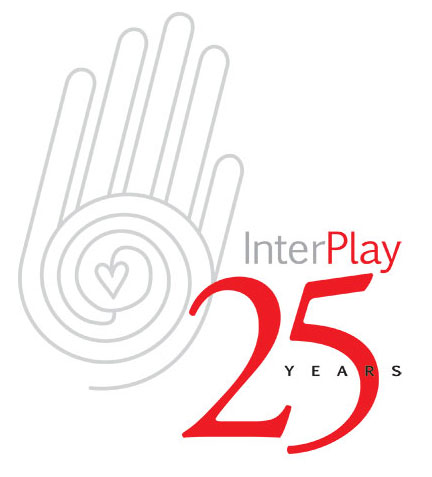 The work that Body & Soul did to explore the wonderful connections between physicality and spirituality was an important precursor to what came next. When Judith moved to New York, the company members went their separate ways, but it wasn&rsquop;t long before Cynthia and Phil reconnected to pursue their continued interest in creativity, revelation, wholeness and play.
They chose to focus on their shared interest in improvisation both as a performance modality and a way of exploring personal and community awareness. So they invited a bunch of their friends to come play (and to pay for it!) and they got together with Leo Keegan and Debra Weir to create the first performance of WING IT Performance Ensemble!
And the fun began.
For the past 25 years, the InterPlay philosophy and technique has continued to develop and grow and now folks are doing InterPlay in all sorts of different cities, states and countries in many different settings.
We will be plotting and planning ways to celebrate. If you have great ideas to add, let us know!
Free InterPlay Sample! Every First Sunday
Every first Sunday of the month, we offer an InterPlay Free Sample. The next one is on Sunday, December 7, 2014, from 2:00-3:15 pm in Oakland.
A free and easy "welcome" to InterPlay! Come for a sample of InterPlay's passionate, effective approach to changing the world! Easy, fun, life-changing! Learn about the latest and greatest developments in InterPlay and find out why InterPlay has spread around the world.
InterPlayce
2273 Telegraph Ave, Oakland, CA 94612
A few blocks from the Oakland 19th St. BART station.
Read why it might be important to give free rein to your right brain!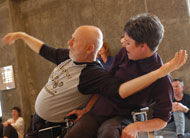 InterPlay Blogs
Read more about a wide variety of InterPlay-related topics on one of the three InterPlay blogs.
Items by Phil Porter about basic InterPlay wisdom for both individuals and groups.
Virtual Friday Morning InterPlay
Each week, Cynthia Winton-Henry creates a virtual InterPlay experience including stories, music, video, poetry and suggestions for simple dances. Get your InterPlay "fix" even if you can't make it to a class.
Each Monday, Cynthia shares observations and ideas in emails she sends to core members of the InterPlay community. This blog is a collection of those emails.