Play in the Deep End of InterPlay!
2012 InterPlay Leaders Gathering
Cynthia Winton-Henry
and
Phil Porter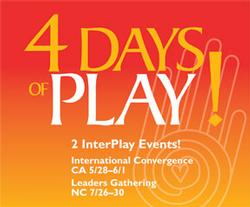 Brown Summit, NC
July 26-30, 2012 • Thursday dinner–Monday lunch
Hang out with the folks who are playing in the deep end of the InterPlay pool!
Join us for time to create, play, laugh, lounge, eat, connect and learn. Find out who is playing in other parts of the country and the world. Learn new tricks. Share some of your own. Help us envision the next twenty or thirty or hundred years of InterPlay!

You are eligible to attend the retreat if you are in the Leaders Circle, on your way to being part of it, or have some other long-term commitment to InterPlay. (If you're not sure you qualify but want to come, give us a call and we'll help you discern!)
Woodland Beauty
We will gather at The Summit at Haw River State Park, Brown Summit, North Carolina (near Greensboro) a residential environmental education center located near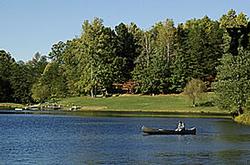 the headwaters of the Haw River on nearly 300 acres of piedmont forest, fields, wetlands, and uplands. Crave some swimming in an outdoor pool or some 9 hole disc golf? Yes, that's there too!
The Body Wisdom Board of Directors will be meeting just before in Raleigh, July 24-26, beginning with dinner on Tuesday, continuing through Thursday morning.
Transportation
The Piedmont Triad Airport is 30 miles from the retreat center. Airport Shuttles serve the retreat center. It is situated between the cities of Greensboro, Winston-Salem and High Point.
Local transportation will be coordinated. Details will be supplied to registrants.
You can arrive anytime on the beginning day of the event. If you want to arrange an additional night of lodging either at the beginning or the end of the event you can contact Tammie Vass directly at the retreat center 336-342-6163/ tammie.vass@ncmailnet. Lunch on Monday should be over by 1:00 pm if you need to plan your transportation accordingly.
Register early and save!
Special discount! Register before June 8 and get $75 off!
Room and Board: $300/double occupancy (for a single room add an additional $90)
Tuition: $290
Nonrefundable $100 deposit or first monthly installment required to register.
Special Payment Plans
Payment plans available 6 monthly payments (under $105) or 8 payments (under $80) by credit card. A 5% processing fee is included. A payment plan must begin no later than the month of May.
Cost:

Register early and save! Check out cost details above.
Registration/Information:

Call the InterPlay office at 510/465-2797 to register.

Venue
The Summit Conference Center
Brown Summit, NC 27214
Summit Conference Center is located on 200 wooded acres just 15 minutes north of Greensboro an 25 minutes from the Piedmont Triad International Airport. The main lodge overlooks a six-acres spring-fed lake and there are 5 miles of hiking trails. A boardwalk takes you through the Haw Rivers wetlands, giving you a close encounter with one of North Carolina's most unique ecosystems. Housing options include motel-style rooms for two with private bathroom and dorm housing with shared baths.
Leaders
Cynthia Winton-Henry
Cynthia Winton-Henry, co-founder of InterPlay with Phil Porter, has researched "what the body wants" in the arts, in jails, shelters, slums, hospitals, churches, businesses, classrooms, doctoral programs in theology and the arts, and in multicultural education. She develops somatic curriculums to address racism, leadership for the Earth, and spiritual intelligence with an eye to supporting millennials. A featured speaker on the Body Intelligence Summit and a keynoter at conferences, Cynthia is the author of What the Body Wants, Having It All: Body, Mind, Heart & Spirit Together Again at Last, Dance: A Sacred Art: Discovering the Joy of Movement as Spiritual Practice, and Chasing the Dance of Life: A Faith Journey,. Currently writing on Body Wisdom and Social Justice and on "Ensoulment," she coaches leaders seeking spiritual intelligence for our time at cynthiawinton-henry.com.
Phil Porter
Phil is one of the founders of InterPlay. He is a teacher, performer, writer, and organizer. With Cynthia Winton-Henry he is the co-founder of WING IT! Performance Ensemble, and has written several books, some in collaboration with Cynthia, including Having It All: Body, Mind, Heart & Spirit Together Again at Last and The Slightly Mad Rantings of a Body Intellectual Part One. Phil is particularly interested in the use of InterPlay in organizational life, and believes that InterPlay can be a powerful tool to create communities of diversity and peace.