InterPlay Ukiah
Connection Thru Grace and Play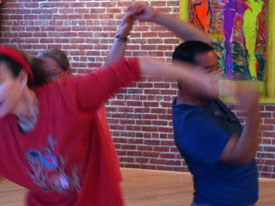 Santa Rosa, CA
May 2016 onward
Currently this group is not meeting, but check out North Bay InterPlay Play Group in Santa Rosa, CA
• Unlock the wisdom of your body!
• Have more fun!
•Decrease stress and increase ease
•Make wiser, more grounded decisions
•Thrive by getting body, mind, heart and spirit to all work together
•Connect with others
•Let grace happen in the midst of our lives and during play.

InterPlay uses easy and incremental forms associated with the arts—movement, storytelling, voice and stillness—but does it in ways that don't require particular skill or even nerve.
Cost:

Free
Registration/Information:

678/231-9035 Diane Chira

Leaders

Judy Shook

In Cynthia Winton-Henry's words, "Judy is a gifted spiritual leader who has put it all together and helps individuals and groups do the same. She brings both powerful joy and practical wisdom to her life and work." A spiritual leader, Judy combines art, poetry, sacred dance, singing, creative ritual, and storytelling to enable people in new ways of relating with each other and the Divine. Shook is a graduate of Matthew Fox's Institute of Creation Spirituality and an ordained United Methodist minister. As of July 1, 2011, Shook is the pastor at Ukiah United Methodist Church. She has been leading Interplay workshops, classes and retreats since 1995.