Change Your life! Change Your World!
New England Life Practice Program 2018-19
Assisted by Lisa Ward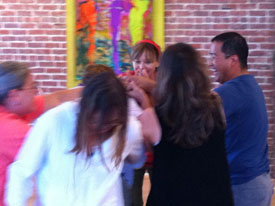 Boston, MA
Saturday sessions 9:30-4: November-March

Weekends in April & May
Explore and integrate the core elements of the InterPlay system with ease and joy!
Immerse yourself in the system of InterPlay—ideas and practices that can move you from where you are to where you would like to be.
Monthly Saturday Meetings November 17, 2018-March 2019, April-May are overnight retreats-
Saturdays 9:30am - 4:30pm
November 17
December 15
January 19
February 9
March 16
April12-13
May 10-11
Secrets of InterPlay retreat June 6-9 in West Newbury MA.
You will gather regularly over a period of time with fellow InterPlayers. Use this supportive, affirming community to help you shape your life in ways that are best for you. Get individual attention from the Program leaders who will help you identify your personal desires and intentions. Create the path you want using the forms and tools of the InterPlay system.

We meet alternately in Connecticut and in Massachusetts.


Tuition
The tuition for the program is $2,250. Payment plans and scholarships are available. Anyone who has previously completed the Life Practice Program may repeat it at the reduced tuition. Based on InterPlay's commitments to build transformational communities of practice, people of color, millennials, full-time artist-activists, and undergraduate and graduate/professional students are eligible for the $1,000 repeaters rate.
A $100 deposit reserves your spot in the program.
Repeating the Program
Anyone who has taken the Secrets of InterPlay, the Life Practice Program or a previous version of those programs, can repeat this program at a significant discount. Repeating only the Secrets of InterPlay retreat is $300 (not including any costs for food or housing). Repeating the whole program is $1000.
Continuing Education Credit
50 CE credits for various healthcare and allied healthcare professions are available for those practicing throughout the U.S. and for educators only practicing in Illinois. CE pre-registration is recommended at least 2 weeks or more before the start of your event. Notify both the Body Wisdom office (510) 465-2797 at time of registration and your local leader(s) that you are requesting CEUs. A fee of $25 per program will be due at the time you register. CEUs are offered through
Continuing Education Institute of Illinois.
For more information about the program, download a general brochure about the program
Reflections, questions, aspirations:
CC King at ccking.interplay@gmail.com or
Lisa Laing at kineticalchemy@gmail.com.
Cost:

$2,250 (Repeaters: $1,000)
Registration/Information:

Register with Body Wisdom at 510/465-2797 or for more information email info@interplay.org

Leaders

CC King

CC King is a certified InterPlay Leader and trainer, Boston-area coordinator and a memory play specialist. She has been practicing the joyous unfolding of Interplay for almost 20 years. CC is an expressive therapist, visual artist, teacher and community activist. As the co-founder of a local arts and environment program, she facilitates workshops in organic sculpture and organizes public performance. Play with elders and Memory Cafes are a special interest, as are cancer support and racial transformation. Her background includes nonprofit management, art and family therapy, trauma-informed InterPlay and a life-long commitment to finding sustenance, creative activism, and joy in the natural world.

Lisa Laing

Lisa Laing is a Certified InterPlay Master Leader, fitness professional and Certified Cancer Wellness Specialist. She incorporates the practices and forms of InterPlay in each of these aspects of her career. Lisa has brought InterPlay to incarcerated women at York Correction Facility in CT, interdenominational clergy groups, as well as students at The Juilliard School, Yale Divinity School and Southern CT State U. Lisa co- developed and co-leads an ongoing cancer wellness group, Hope Is Power, very much informed by InterPlay. Lisa co-leads the InterPlay Life Practice Program and Secrets of InterPlay in the northeast with both Katrina Browne and CC King and is an InterPlay Leader Training Mentor. She currently serves on the InterPlay Body Wisdom Board. "I am blessed to be a part of this world-wide community of creators, instigators, healers, nurturers, adventurers, huggers, grace-operatives, activists, artists; InterPlayers All!"