4 days of deep play and leadership wisdom
InterPlay Leaders Gathering 2020
Open to all Life Practice and Leader Training participants and grads
Phil Porter
and
Cynthia Winton-Henry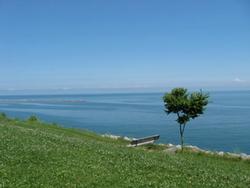 Racine, WI
July 29-August 2, 2020 • Wednesday dinner–Sunday lunch (Board meeting, beginning with dinner on Monday July 27-29)
Save the Date for some for deep and satisfying play at the Dekoven Retreat Center, a beautiful spot on Lake Michigan, near Racine. Cynthia and Phil join others with years of InterPlay experience. The wisdom in the InterPlay community of leaders runs deep.
As we celebrate 30 years of InterPlay, our commitment and actions for racial equity and transformation, and inspired, intergenerational community, there is plenty of room to bring your own ideas for workshops to be set up on the spot. Have a chance to organize conversations with other leaders about InterPlay issues that move you. Get new skills for education, spirituality, racial equity and transformation, art-making and leading your life. Discover new forms! Get met in your glory, humanity, artistry, and body wisdom.
Lots of opportunities to play, create, perform, connect, converse, eat and relax. And laugh!
This event is open to all Life Practice Program and Leader Training Program grads as well as those currently taking part in either program (or who took part in earlier versions of either program.)
Charming and comfortable rooms and three meals a day that you don't have to cook.
We will coordinate some transportation as we are able.
Cost
Tuition
$450 early bird ($525 after 6/16/20)
Room & Board
(per person)
Leaders Gathering $375 Double / $475 Single
Leaders Gathering & Board Meeting $475 Double / $535 Single
Commuter Rates are also available. Please contact the office. Singles are limited and first come, first served. We will know how many are available once everyone has registered.
Cost:

See above. Contact the office for payment plans. A 5% fee will be added to any balances paid after the event.
Registration/Information:

Register via PayPal above or contact the office at info@interplay.org or 510-465-2797.

Venue
The DeKoven Center
600 21st Street
Racine, WI 53403
Leaders
Phil Porter
Phil is one of the founders of InterPlay. He is a teacher, performer, writer, and organizer. With Cynthia Winton-Henry he is the co-founder of WING IT! Performance Ensemble, and has written several books, some in collaboration with Cynthia, including Having It All: Body, Mind, Heart & Spirit Together Again at Last and The Slightly Mad Rantings of a Body Intellectual Part One. Phil is particularly interested in the use of InterPlay in organizational life, and believes that InterPlay can be a powerful tool to create communities of diversity and peace.
Cynthia Winton-Henry
Cynthia Winton-Henry, co-founder of InterPlay with Phil Porter, has researched "what the body wants" in the arts, in jails, shelters, slums, hospitals, churches, businesses, classrooms, doctoral programs in theology and the arts, and in multicultural education. She develops somatic curriculums to address racism, leadership for the Earth, and spiritual intelligence with an eye to supporting millennials. A featured speaker on the Body Intelligence Summit and a keynoter at conferences, Cynthia is the author of What the Body Wants, Having It All: Body, Mind, Heart & Spirit Together Again at Last; Dance - A Sacred Art: Discovering the Joy of Movement as Spiritual Practice; and Chasing the Dance of Life: A Faith Journey. Currently writing on Body Wisdom and Social Justice and on "Ensoulment," she coaches leaders seeking spiritual intelligence for our time at cynthiawinton-henry.com.