4 days of deep play and leadership wisdom
InterPlay Leaders Gathering 2019
Open to all Life Practice and Leader Training participants and grads
Phil Porter
and
Cynthia Winton-Henry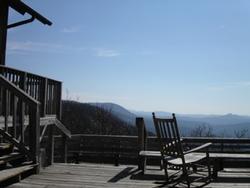 Highlands, NC
Aug 14-18, 2019 • Wednesday dinner–Sunday lunch (Board meeting, beginning with dinner on Monday Aug 12-14)
Come for deep and satisfying play with Cynthia and Phil and others with years of InterPlay experience. The wisdom in the InterPlay community of leaders is deep.
Bring your own ideas for workshops to be set up on the spot. Have a chance to organize conversations with other leaders about InterPlay issues that move you. Get new skills for education, spirituality, racial equity and transformation, art-making and leading your life. Discover new forms! Get met in your glory, humanity, artistry, and body wisdom.
Lots of opportunities to play, create, perform, connect, converse, eat and relax. And laugh!
This event is open to all Life Practice Program and Leader Training Program grads as well as those currently taking part in either program (or who took part in earlier versions of either program.)
Charming and comfortable rooms and three meals a day that you don't have to cook.
Come enjoy a new location—The Mountain Retreat and Learning Center.—a beautiful spot in the Southern Blue Ridge Mountains.. We will be doing some some transportation coordination to get to the center.
Important Travel Information
There are several airports that you may wish to consider. Note the driving time from the closest airports to The Mountain.
Atlanta's Hartsfield-Jackson Atlanta International Airport (2h 30m)
Greenville-Spartanburg International Airport (2hr 15 m)
Asheville Regional Airport (2hr)
More transportation info about getting to the retreat center from area airports...
Special Gathering Event: Visit the Legacy Museum in Montgomery
InterPlayers of African ancestry are calling all InterPlayers to gather and commemorate the African arrival and African experience in the United States on Friday, August 16, 2019 at the Legacy Museum and National Memorial for Peace and Justice in Montgomery, AL. 2019 marks 400 years since Africans from Angola were forcibly brought to the British colony of Virginia in August 1619.
This day-long offering will take place on Friday, August 16 amidst the Leaders Gathering. Anyone may choose to participate in this special experience. Other programming will be offered for those who remain at the retreat center. A bus will leave that Friday morning at 6 am from the retreat center and return by 11 pm that evening. Travel time is estimated to be 5 to 5 1/2 each way, so the trip will be long, but the opportunity will be powerful. The cost will be minimal. Details about cost and registration can be found here...
Leaders Gathering Cost
Tuition
$490

Room & Board (per person)
Leaders Gathering $400 Double / $500 Single
Leaders Gathering & Board Meeting $525 Double / $625 Single
Commuter Rate $55 per day (meals included)
(As always, singles are limited and first come, first served. We will know how many are available once everyone has registered.)
Please call the Body Wisdom office to register at 510-465-2797.
Cost:

See above. A 5% fee will be added to any balances paid after the event.
Registration/Information:

Register with info@interplay.org or 510-465-2797.

Venue
The Mountain Retreat Center
3872 Dillard Road, Highlands, NC
Highlands, NC 28741
Leaders
Phil Porter
Phil is one of the founders of InterPlay. He is a teacher, performer, writer, and organizer. With Cynthia Winton-Henry he is the co-founder of WING IT! Performance Ensemble, and has written several books, some in collaboration with Cynthia, including Having It All: Body, Mind, Heart & Spirit Together Again at Last and The Slightly Mad Rantings of a Body Intellectual Part One. Phil is particularly interested in the use of InterPlay in organizational life, and believes that InterPlay can be a powerful tool to create communities of diversity and peace.
Cynthia Winton-Henry
Cynthia Winton-Henry, co-founder of InterPlay with Phil Porter, has researched "what the body wants" in the arts, in jails, shelters, slums, hospitals, churches, businesses, classrooms, doctoral programs in theology and the arts, and in multicultural education. She develops somatic curriculums to address racism, leadership for the Earth, and spiritual intelligence with an eye to supporting millennials. A featured speaker on the Body Intelligence Summit and a keynoter at conferences, Cynthia is the author of What the Body Wants, Having It All: Body, Mind, Heart & Spirit Together Again at Last, Dance: A Sacred Art: Discovering the Joy of Movement as Spiritual Practice, and Chasing the Dance of Life: A Faith Journey,. Currently writing on Body Wisdom and Social Justice and on "Ensoulment," she coaches leaders seeking spiritual intelligence for our time at cynthiawinton-henry.com.