"The beauty of playing together is meeting in the One."-Stephen Nachmanovitch
Spirit Play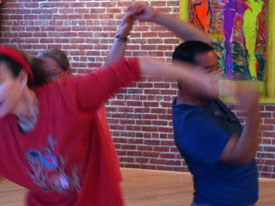 Decatur, GA
4th Friday of every month
Sitting meditation, spiritual text and poetry will provide the springboard for this time of deep play. What is the "big story" moving through your life? How do we practice partnership with that "something more"? The practice of InterPlay makes room for the fullness we each embody. InterPlay recognizes and playfully engages the challenging aspects of our humanity as well. Bring your full self out to play, explore, dream and rest through the easy forms of InterPlay.
Cost:

$12-15 sliding scale
Registration/Information:

atlantainterplay@gmail.com

Leaders

Jennifer Denning

Jennifer Denning is the co-founder of InterPlay Atlanta. She launched InterPlay Atlanta's offerings with women in prison and teaches weekly at The Atlanta Pretrial Detention Center. She also regularly leads InterPlay at Trinity House and The Friendship Center. She is an InterPlay Life Practice Program leader and directs Atlanta's InterPlay performance group, Soulprint Players.