Could you use a little more ease, delight and openness in your life?
Gathering the Community in Play
InterPlay for Adults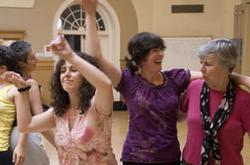 Old Lyme, CT
Mondays, 9:30-11:00 am
This Monday offering is one of two weekly groups newly forming in the Old Lyme Region. Lisa Laing and guest teachers will share the InterPlay basics. Come for ease, amusement, support and exercise and discover how great it is to share our story, voice, song, movement and witness with one another! There is no prerequisite other than a willingness to be yourself!
Cost:

$15.00 suggested
Registration/Information:

Lisa Laing 860/964-0481, kineticalchemy@gmail.com

Venue
Old Lyme Congregational Church
Ferry Road
Old Lyme, CT 064371
Please enter at the back of the building. There is a small parking lot.
Leaders
Lisa Laing
Lisa Laing is a Certified InterPlay Leader, Modern Dancer, Certified Fitness Professional and Certified Cancer Exercise Specialist . Lisa incorporates the practices and forms of InterPlay in each of these aspects of her career. She has brought InterPlay to incarcerated women at York Correction Facility in CT, students at The Juilliard School, Yale Divinity School and to many spiritual groups as well as to elementary school aged children. It continues to be a privilege to co-lead a Cancer Wellness Group (Hope is Power), very much informed by InterPlay practices. Lisa is one of the Northeast Regional InterPay Leaders (as well as a Regional event coordinator) and has co-lead the InterPlay Life Practice Program and Secrets of InterPlay in the northeast with both Katrina Browne and CC King. "I am blessed to be a part of this world-wide community of creators, instigators, healers, nurturers, adventurers, huggers, grace-operatives, activists, artists; InterPlayers All!"