A nourishing gathering for those with memory challenges & their partners
Memory Cafes in the Boston area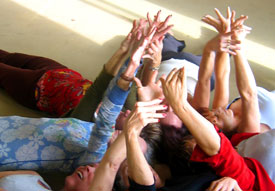 Boston, MA
April 11, 27; May 17
Come for simple pleasure: for people living with dementia and their partners the Memory Cafe is a place for fun, laughter, song and movement. Anybody can do it! We will recharge and focus on life and connection in community. Memory Cafes are popping up around the country.
In April: Billerica on April 11 and Concord on April 27. May 17 in Natick Mass.
All are invited to a welcoming place for people living with memory changes due to Alzheimer's, vascular disease, Parkinson's, frontotemporal degeneration, or other related conditions. InterPlay provides a means of self-expression, connection with others, without fancy tools and rules. It addresses some of the most basic needs seniors have for non-clinical, non-task-oriented touch, for validation, for being encouraged to call forth memories, skills, talents and to try something different in an accepting environment. InterPlay groups foster community and caring among participants. It is an excellent tool for integrating seniors living at different levels of functionality. It allows task-oriented care partners and family members to see their clients/residents/loved ones as whole people again, even if different.
January 17 ay 9:30am in Lexington. Inquire for details.
Cost:

Free!
Registration/Information:

For details: ccking.interplay@gmail.com

Leaders

CC King

CC King is a certified InterPlay Leader and trainer, Boston-area coordinator and a memory play specialist. She has been practicing the joyous unfolding of Interplay for over 15 years. Play with elders and Memory Cafes are a special interest. CC is an expressive therapist, visual artist, teacher and community activist. As the co-founder of a local arts and environment program, she facilitates workshops in organic sculpture and organizes public performance. Her background includes nonprofit management, art and family therapy, trauma-informed InterPlay and a life-long commitment to finding sustenance, creative activism, and joy in the natural world.