Creativity, Healing, and Body Wisdom in Spiritual Formation
InterPlay Life Practice Program for Spiritual Leaders 2018
2 in-person retreats and 8 online events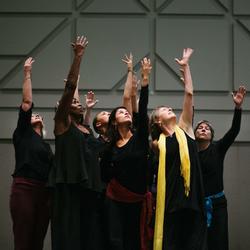 Online, ONLINE
Opening & Closing Retreats: April 30-May 3 & August 27-30, 2018 • 8 online wisdom teachings: Tues 9–11 am PST • May-August 2018
This in-depth training orients spiritual leaders to the nature of body wisdom and creativity in personal and group life. In addition to group sessions each participant receives three one hour sessions with an InterPlay mentor to explore InterPlay tools and practices for personal and spiritual development. These may occur in person or on Zoom.
The program supports participants to
• Integrate body and soul in formation, healing, prayer, speaking, discernment, celebration, justice, and ritual.
• Increase fluency in the wisdom languages of the soul: movement, voice, word, stillness
• Receive affirmation for your body's intrinsic spiritual intelligence
• Honor a personal connection to Spirit and Mystery
• Recoup a sense of play and fun and reflective, easy-going community
Why Body Wisdom?
Physicality is basic. Great transformation is possible when we put the body at the center of spiritual intelligence. The same is true for putting Earth back at the center of what we value. Racism, gender, class, ability, politics, religion, climate change, animal care, and culture are all body realities. To honor and affirm every body as distinct and part of a distinct community is key to living in peace. Do we honor our bodies? If not, how can we honor souls?
Why Creativity for Spiritual Intelligence?
Every form of creative expression provides a unique path of revelation and healing. Our full spiritual inheritance depends on whether we can engage our birthright practices: movement, voice, story, stillness, as well as visual, musical, written and spatial arts. Soul comes alive through them, whther or not we are proficient. InterPlay brings all of these folk arts back into community life in personal and joyful ways.
The Process
An online orientation will help us explore our online visual connection and meet the participants.
Opening Retreat: The Secrets of InterPlay for Embodied Spiritual Formation, Oakland, California. Start your journey in the creative diversity of the Bay Area, among local redwoods and in the artful sanctuary of InterPlayce. With time to explore the balance of creative practice and wisdom teachings, the journey unfolds through elegantly crafted moments of movement, voice, story, and stillness, which open like parables. Learn the tools that are helping people orient to the wisdom of their body: Easy Focus, Body Data/Knowledge/Wisdom, Internal Authority, Physicality of Grace, Exformation, Spiritual Disciplines, Incrementality, and Affirmation. Gather into a sense of grace, ease, and spontaneous health where body and soul yield refreshment, connection, and guidance.
This workshop uniquely introduces the following

• The Soul Loves The Body: Recovering our Soul Languages
• Our Bodyspirit as Bigger Than Our Skin
• Spontaneity as A Signature Of Soul
• Transformation as A Creative Process
• The Architecture of Soul as Bigger Than One Body
• Different Art Forms Create Different Results
Online Sessions: The retreat is followed by eight online wisdom trainings (two hours each). During each interactive, live, video session, participants will deepen their body wisdom around aspects of the creative spirit, the art of truth telling, the nature of being a body intellectual, how to play with challenge, healing and wholeness, and how to encourage creative offerings in prayer and service in others.
These will take place online Tuesdays from 9–11 am PST (California time) on
May 8, 22, June 5, 19 & July 10, 24, Aug 7, 21
.
The Closing Retreat: "The Art of Collective Peace-making and Ritual." Having formed bonds of play and deep story, we explore creativity and body wisdom to open new vistas for communal life. What does it mean for peace and for the communal soul to be embodied? This retreat culminates with a graduation celebration.
Gifts of the Program
• Access voice, movement, stillness, and stories to connect to self, others and the Divine.
• Deeper connection with earth, people, and spirit.
• Resiliency techniques.
• Improvisational skills for working with complex situations.
• New skills for speaking and presenting.
• Art and ritual for bedside, one to one, small and large groups
• Community building that empowers marginalized people.
• Cultivates intergenerational bonds with children, youth, and adults.
Online Information Sessions Jan 23, 3pm PST, Feb 15 noon PST or by appt at cynthia@interplay.org
Email Cynthia for more information.
More information about the 8 online workshops
Frequently Unasked Questions about InterPlay for Spiritual Leaders.
Use the PayPal button below to submit your $100 deposit for the program.
Cost:

$2,250 plus room and board costs for the two retreats (see above for details)
Registration/Information:

Body Wisdom, 510-465-2797 or info@interplay.org

Venue
Online
Online, ONLINE
This will be an online event which could originate from anywhere in the world and would be open to anyone around the world.
Leaders
Cynthia Winton-Henry
Cynthia Winton-Henry, co-founder of InterPlay with Phil Porter, has researched "what the body wants" in the arts, in jails, shelters, slums, hospitals, churches, businesses, classrooms, doctoral programs in theology and the arts, and in multicultural education. She develops somatic curriculums to address racism, leadership for the Earth, and spiritual intelligence with an eye to supporting millennials. A featured speaker on the Body Intelligence Summit and a keynoter at conferences, Cynthia is the author of What the Body Wants, Having It All: Body, Mind, Heart & Spirit Together Again at Last, Dance: A Sacred Art: Discovering the Joy of Movement as Spiritual Practice, and Chasing the Dance of Life: A Faith Journey,. Currently writing on Body Wisdom and Social Justice and on "Ensoulment," she coaches leaders seeking spiritual intelligence for our time at cynthiawinton-henry.com.