Join the Movement! Racism is about bodies. Let's change that dance!
Changing the Race Dance
Cosponsored by Spiritual Directors of the Greater Lehigh Valley and Moravian Theological Seminary
Soyinka Rahim
and
Cynthia Winton-Henry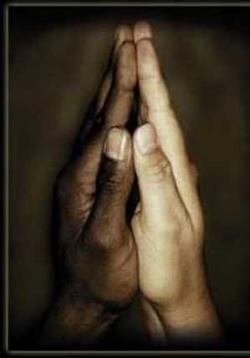 Bethlehem, PA
Friday June 2, 6:30-9, Saturday, June 3, 9 am –4:30 pm
Do you believe in the right to freedom and dignity for all? Are you ready to move out of systems of assimilation and oppression that do not serve you? Do you want support to step into who you really are to "be in the game" with more authenticity?
Join us for a workshop for people of color and white people (working on unlearning racism) where participants learn the power of respectful body-to-body connection and why internalized oppression and racism is hard to stop if not treated on a body level.
Ready to do a different dance? Using the widely tested educational methods of InterPlay leaders Soyinka Rahim, Cynthia Winton-Henry and team members re-engage the birthright practices of story-telling, movement, and communal song to not only come together but to tap new resources that literally move us toward freedom and health for all as we
Address and shift away from systems of assimilation and oppression uses for survival that detach us from the authentic self.
Engage in empowering opportunities to address race and racism and unpack inequity with fewer words and more wisdom.
Discover healthy ways to cross bridges, uncover insights, and claim the authority to be part of the change.
Sing chants that celebrate the choice to move towards healing and away from the wounds of racism.
"My words didn't have to carry all the weight." "This was a kind of body work that transformed everything for me." "I felt a connection with everybody in the room on a deeper level…"
The workshop has been presented in 12 different cities and at conferences for Race Forward, National Association of Independent School's People of Color Conference, the Threshold Foundation and the Spiritual Directors International.
InterPlay is a creative tool kit dedicated to peace, health and social change. As a global leadership network of creatives, elders, emerging leaders and leaders of color InterPlayers strengthen well-being, bridge disciplines, and promote holistic thinking in personal and community practice.
Open to anyone age 14 or older.
DONATE
If you would like to support this important initiative financially, please DONATE ONLINE. Your contribution will underwrite scholarships and keep the registration price low. Your support is appreciated!
Cost:

$15-$75 sliding scale. Scholarships available.
Registration/Information:

Body Wisdom, 510-465-2797, info@interplay.org. Participants may come for Just Friday or Just Saturday. Contact Sarah for local inquiries 610-653-4182

Venue
Bahnson Center at Moravian Seminary
60 W Locust St
Bethlehem, PA 18018
Bahnaon Center is the cream colored building with a steeple. We will meet in the Saal which is the first door on your left as you enter from Locust Street. Street parking is available. Parking passes will be issued to those who RSVP that allow one to park in the lot directly across the street from the Bahnson Center.
Leaders
Soyinka Rahim
Soyinka Rahim, founder and director of OurThing Arts Company and BIBOLOVE, is a Certified InterPlay Leader. Soyinka has a long history as a member of the Bay Area's most renowned modern and ethnic dance companies. Her work taps into the power of sound and vibration to create peace and happiness for all humanity. In addition, she created the original, acclaimed Dance Play "An Alter Piece to Alter Peace," and has worked with passion for intergenerational community in schools and community centers all over the West Coast and U.S. Her work as a conference weaver and workshop leader includes Race Forward, National Association for Independent Schools Teachers of Color, Boys and Girls Clubs, Spiritual Directors International, and the Parliament of World Religions.
Cynthia Winton-Henry
Cynthia Winton-Henry, co-founder of InterPlay with Phil Porter, has researched "what the body wants" in the arts, in jails, shelters, slums, hospitals, churches, businesses, classrooms, doctoral programs in theology and the arts, and in multicultural education. She develops somatic curriculums to address racism, leadership for the Earth, and spiritual intelligence with an eye to supporting millennials. A featured speaker on the Body Intelligence Summit and a keynoter at conferences, Cynthia is the author of What the Body Wants, Having It All: Body, Mind, Heart & Spirit Together Again at Last, Dance: A Sacred Art: Discovering the Joy of Movement as Spiritual Practice, and Chasing the Dance of Life: A Faith Journey,. Currently writing on Body Wisdom and Social Justice and on "Ensoulment," she coaches leaders seeking spiritual intelligence for our time at cynthiawinton-henry.com.