An InterPlayce New Years Untensive with Cynthia & Phil
New Years: Return to the Parallel Universe
Out with the Old and In with the Phew.
Phil Porter
and
Cynthia Winton-Henry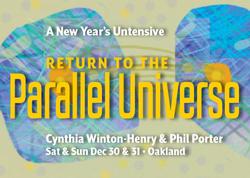 Oakland, CA
Dec 30 & 31, 2017 • Sat 10 am – 10 pm • Sun 1–9 pm
What if love is what it is all about?
What if dreams defeat cynicism in the end?
What if laughter drowns out bombast?
What if justice is the main entrée and all bodies are beautiful?
What if body, mind, heart and spirit get all lined up?
What if play is the real work to be done?
Last year for New Years, InterPlay co-founders Cynthia Winton-Henry and Phil Porter created a Parallel Universe they and their InterPlay friends could escape to for obvious reasons. Turns out we need to get back there again!
Come move, tell stories, let your voice soar, connect, and be still to bring in a grand 2018. Spontaneity is rewarded with affirmation, creativity is what we all do naturally, laughter fits right alongside tears, and art is how we love!
Come party!
We'll gather on Saturday to play and let go of 2017. On Sunday, New Years Evewe'll sleep in a bit then gather to dream up our futures—the last day of the year—and celebrate well into the evening.
Open to both new and advanced InterPlayers and everyone in between!
Affordable! This event is a $175 value, but pay what you can!
Schedule
Saturday
10 am–12:30 am  Connection and play
12:30–2 pm  Lunch out
2–5  Play
5–7:30 pm  Dinner out
7:30–10 pm  Wing It! Performance and play

Sunday
1–5 pm Connection, play and dreaming
Potluck Dinner
7–9 pm Pine Bough Labyrinth and the No More Midnight Cabaret
Register Online
If you don't see an online payment option that fits you, please call the office to register.
Cost:

Pay what you can afford! $175 value
Registration/Information:

Registration/Information: Body Wisdom office 510-465-2797 or email info@interplay.org

Venue
InterPlayce
2273 Telegraph Avenue (at 23rd St.)
Oakland, CA 94612
InterPlayce is the center of the InterPlay universe. The offices for Body Wisdom, Inc. are also located here. The building is at the corner of 23rd and Telegraph, one block north of West Grand. It is just a few blocks from the 19th Street Downtown Oakland BART station, and on several convenient bus lines. On-street parking is always available at night and metered during the day. It is also easily accessible by several of the major freeways.
Click here for a map.
Leaders
Phil Porter
Phil is one of the founders of InterPlay. He is a teacher, performer, writer, and organizer. With Cynthia Winton-Henry he is the co-founder of WING IT! Performance Ensemble, and has written several books, some in collaboration with Cynthia, including Having It All: Body, Mind, Heart & Spirit Together Again at Last and The Slightly Mad Rantings of a Body Intellectual Part One. Phil is particularly interested in the use of InterPlay in organizational life, and believes that InterPlay can be a powerful tool to create communities of diversity and peace.
Cynthia Winton-Henry
Cynthia Winton-Henry, co-founder of InterPlay with Phil Porter, has researched "what the body wants" in the arts, in jails, shelters, slums, hospitals, churches, businesses, classrooms, doctoral programs in theology and the arts, and in multicultural education. She develops somatic curriculums to address racism, leadership for the Earth, and spiritual intelligence with an eye to supporting millennials. A featured speaker on the Body Intelligence Summit and a keynoter at conferences, Cynthia is the author of What the Body Wants, Having It All: Body, Mind, Heart & Spirit Together Again at Last, Dance: A Sacred Art: Discovering the Joy of Movement as Spiritual Practice, and Chasing the Dance of Life: A Faith Journey,. Currently writing on Body Wisdom and Social Justice and on "Ensoulment," she coaches leaders seeking spiritual intelligence for our time at cynthiawinton-henry.com.