The Secrets of InterPlay in Atlanta
Unlock the Wisdom of Your Body!
Jennifer Denning
and
Christine Gautreaux, LMSW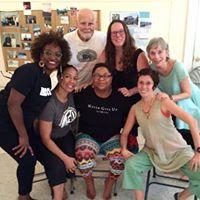 Atlanta, GA
Friday, March 24, 7-9:30 pm; Saturday, March 25, 9 am-9 pm & Sunday, March 26, 1-4 pm
Learn how you can use the tools and ideas of InterPlay to unlock the wisdom of your body. Get your body, mind, heart, and spirit all on the same page. Learn about yourself through connection and community. Create more ease and fun in your life.
This multiple-day event will give you direct experience in many aspects of the InterPlay system. It is also an important element of the InterPlay Life Practice Program which we will be offering in Atlanta starting in April of 2017 with this Secrets of InterPlay event.
Carolyn Renée will be assisting.
CEs (Continuing Education Credit)
Social Workers: CES, provider #1117, is approved as a Provider for Social Work Continuing Education by the Association of Social Work Boards (ASWB) www.aswb.org, through the Approved Continuing Education (ACE) program. CES maintains responsibility for the program. ASWB Approval Period: 10/5/15 through 10/5/18. Social Workers should contact their regulatory board to determine course approval. Social Workers completing this course will receive 15 clinical continuing education clock hours.
CEs are offered through Commonwealth Educational Seminars. Please see the Commonwealth website for specific information regarding disciplines covered.
Cost:

$350 + space rental fee (for those doing Life Practice, Secrets is included in tuition)
Registration/Information:

Body Wisdom Office 510/465-2797

Venue
St. Luke's Episcopal Church
435 Peachtree St Ne
Atlanta, GA 30308
Free Parking
Leaders
Jennifer Denning
Jennifer Denning is the co-founder of InterPlay Atlanta. She launched InterPlay Atlanta's offerings with women in prison and teaches weekly at The Atlanta Pretrial Detention Center. She also regularly leads InterPlay at Trinity House and The Friendship Center. She is an InterPlay Life Practice Program leader and directs Atlanta's InterPlay performance group, Soulprint Players.
Christine Gautreaux, LMSW
As a Licensed Master Social Worker, Christine uses InterPlay in a variety of settings and workshops with her peers and clients. She enjoys taking InterPlay and performance into underserved communities. She has worked with women in Lee Arrendale State Prison and the pre-trial detention center in Atlanta, GA. Christine also uses InterPlay with her Life Coaching Clients and in her workshops with foster/adoptive families. Dedicated to the pursuit of play, joy, laughter and love, Christine enjoys InterPlay, yoga, blogging, DCP, triathlons, family & friends and tea. Her superpowers include connecting people, helping folks manifest their dreams and juggling a full delightful life.