Relax, Laugh, and Come Alive in Community through Play!
Vallejo InterPlay Free Introduction
Alive in the Spirit
Bobbie Bolden, RScP
and
Susan Main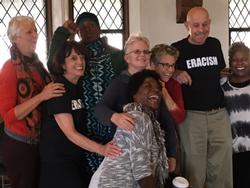 Vallejo, CA
Sunday, April 30, 2pm - 3:30pm
InterPlay is easy, fun, and life changing. It is based in a series of incremental "forms" that lead participants to movement and stories, silence and song, ease and amusement. In the process, we discover the wisdom in ourselves and our communities. Join us for a remarkable in-the-moment experience integrating body, mind, heart, and spirit. This is a free event offered by Certified InterPlayers to introduce the Vallejo Community to the joys and benefits of InterPlay
Cost:

FREE
Registration/Information:

To register (or for questions) please call: June Goudey 310/386-8021 or email her at junegoudey@gmail.com

Venue
First Church of Religious Science
223 Springs Rd
Vallejo, CA 94590
223 Springs Road is on the Corner of Amador and Springs Road in Vallejo. It is a yellow, one level, rectangular building.
Leaders
Bobbie Bolden, RScP
Bobbie Wynn Bolden is a Certified InterPlay Leader, Licensed Practitionerat Centers for Spiritual Living and a Professor Emeritus from the University of California Davis. In the 1980's, Bobbie was founder and Artistic Director of Bobbie Wynn & Company of San Jose. Prior to retiring from UCD, she taught classes in dance improvisation, choreography, modern and jazz dance, African Caribbean Dance and Culture and History of African American Dance. She also researched sacred dance forms of the African diaspora. Bobbie currently performs as a member of "Wing It" and as a soloist in other venues. Throughout her career as dancer, choreographer and teacher, she has been passionate about the connection between creativity and spirituality.
Susan Main
Susan Main has her BA in Dance and Theater from UC Santa Cruz and has been leading InterPlay and performing with Wing It! Performance Ensemble since 1995. Her leading experience includes Interplay Camp, New Years Eve Retreats, Untensives, Monday women's group, monthly Deepening and the Leadership Program. She infuses InterPlay into her 12-step recovery work, nature play, tap dancing, dance teaching, attitude and life. Her specialty: creating a safe and playful haven for creativity and truth...wit and laughter.