InterPlay Experts Online: Prashant Olalekar
Playful Education for a Playful Universe
Prashant Olalekar
and
Cynthia Winton-Henry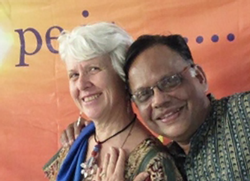 Online, ONLINE
Thursday, June 22, 2017 • 2–3:30 pm CA time
Prashant Olalekar, the founder of InterPlay India, will be interviewed online by InterPlay co-founder Cynthia Winton-Henry on Thursday, June 22, 2017 about his creative integration of play, meditation and education. His intention is that the wisdom of the body and the wisdom of the universe can flourish.
In the Honours courses "Awaken to Cosmic Compassion" and "Joy of Self Discovery." for example, he has introduced playful meditation. He also has 2-hour sessions of Universal Meditation in which he integrates InterPlay and other spiritual practices of east and west.
Prashant is the head of the Department for Interreligious Studies at St. Xavier's College in Mumbai, India. He is also the Adviser for the All-India Catholic University Federation (AICUF), Xavier's Unit. He has shared InterPlay in many different settings with a wide variety of participants.
Prashant was introduced to InterPlay while he was a graduate student in Berkeley, CA. He has helped InterPlay spread to a number of locations in India and beyond.
The event will be shared via the online application Zoom, which is easy to use. Enrollees will receive information about connecting with Zoom. Even if you are unable to join the live conversation, you will receive a video of the presentation later if you enroll. Prashant will also share resources that he has created.
Cost:

$30
Registration/Information:

Register online above or call 510/465-2797.

Venue
Online
Online, ONLINE
This will be an online event which could originate from anywhere in the world and would be open to anyone around the world.
Leaders
Prashant Olalekar
Prashant Olalekar together with the InterPlay India team played a pioneering role in actively promoting InterPlay in India and building bridges through Global Peace Exchanges. He is a Jesuit, peace activist, spiritual director, and educator. He travels throughout India and abroad to share what he is learning about the power of play, spirit, and the deep wisdom of the body to foster peace. He has served as the former Novice Director and Coordinator of Formation of the Bombay Jesuit Province. He was also director of Jivanvikas Sadan Retreat House in Mumbai and founder of Pasayadaan Peace Partnership, a fledgling global network for peace. He is currently playing with integrating Ignatian Spirituality, Jesuit Education and Body Wisdom. Prashant encourages lay collaboration to foster the vision of InterPlay India namely, "to co-create a universe InterPlaying for Peace." He enjoys exploring new frontiers especially playing with people on the margins.
Cynthia Winton-Henry
Cynthia Winton-Henry, co-founder of InterPlay with Phil Porter, has researched "what the body wants" in the arts, in jails, shelters, slums, hospitals, churches, businesses, classrooms, doctoral programs in theology and the arts, and in multicultural education. She develops somatic curriculums to address racism, leadership for the Earth, and spiritual intelligence with an eye to supporting millennials. A featured speaker on the Body Intelligence Summit and a keynoter at conferences, Cynthia is the author of What the Body Wants, Having It All: Body, Mind, Heart & Spirit Together Again at Last, Dance: A Sacred Art: Discovering the Joy of Movement as Spiritual Practice, and Chasing the Dance of Life: A Faith Journey,. Currently writing on Body Wisdom and Social Justice and on "Ensoulment," she coaches leaders seeking spiritual intelligence for our time at cynthiawinton-henry.com.