Play with InterPlay co-creator Phil Porter!
Untensive Retreat in Michigan Spring 2018
Active, creative, life-changing fun!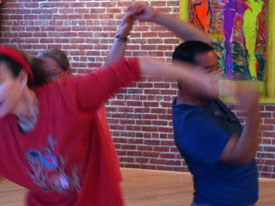 Sturgis, MI
Thursday, March 22, 7pm - Sunday, March 25, 1:00 pm
This Untensive is a multiple-day retreat that will gently immerse you in the easy-body practices of InterPlay, a 28-year-old system co-founded by Cynthia Winton-Henry and Phil Porter that can create more connection and ease in your life. InterPlay is incremental and affirming.
In InterPlay you will find new access to your stories, movement and voice. This is the easiest way to experience the powerful integration of mind, body, heart and spirit. It is also the quickest way to community connection.
InterPlay is something that any body can do—regardless of size, shape, ability, color, background, gender, orientation, belief, or nationality. All you need is a little willingness. Expect to laugh, savor and relax. Expect to be surprised by what you can do!
And...
At the same time and location, InterPlay co-founder Cynthia Winton-Henry will be leading a Secrets of InterPlay event that will lead into Life Practice Programs in both Michigan/Indiana and Chicago.
Cost:

$350 tuition/$400 after 2/20; $225 double room & board; $195 triple room & board
Registration/Information:

Deadline: March 7/Body Wisdom Office @ 510/465-2797

Venue
Amigo Centre
26455 Banker Road
Sturgis, MI 49091
Welcome to Amigo Centre, a retreat and recreation center for members of the Indiana-Michigan Mennonite Conference congregations, their friends and the wider community. Amigo provides a unique environment where we gather to listen and share, play and worship, enjoy nature, creation and community. Situated on over 400 acres of woodland, marsh and lake, Amigo has a diverse, nearly untouched, ecosystem that is just waiting to be explored. Amigo is blessed with a diverse natural setting, and when you go hiking on our trails you have the privilege of experiencing the beauty of several ecosystems no matter which loop you choose to hike.
Leaders
Phil Porter
Phil is one of the founders of InterPlay. He is a teacher, performer, writer, and organizer. With Cynthia Winton-Henry he is the co-founder of WING IT! Performance Ensemble, and has written several books, some in collaboration with Cynthia, including Having It All: Body, Mind, Heart & Spirit Together Again at Last and The Slightly Mad Rantings of a Body Intellectual Part One. Phil is particularly interested in the use of InterPlay in organizational life, and believes that InterPlay can be a powerful tool to create communities of diversity and peace.