Change your life -- Change Your World
Life Practice Program in Michigan 2018
assisted by Kat Brown & Lee Edwards
Linda Schlabach Miller
and
Barbara K. Toshalis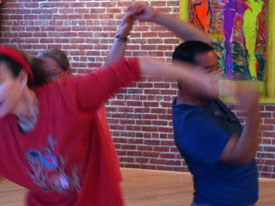 Ann Arbor, MI
Fridays 6:00-9:00 PM and Saturdays,9:00 AM -5:00 PM; April 20-21, 2018; May 18-19, 2018; June 15-16, 2018; July 20-21, 2018; August 24-25, 2018; possible addition September 14-15,2018
The InterPlay Life Practice Program is an active, creative way to change your life and change your world. Immerse yourself in the system of InterPlay—ideas and practices that can move you from where you are to where you would like to be. It begins with a Secrets of InterPlay Retreat March 22-25, 2018 in Sturgis, MI (although you can take the Secrets Retreat at any location that it is offered). You will be meeting regularly over a period of time with a group of fellow InterPlayers. You may use this supportive, affirming community to help you shape your life in ways that are best for you. You will get individual attention from the Program leaders who will help you identify your personal desires and intentions. Although some previous experience with InterPlay is encouraged, there are no prerequisites for taking part in the InterPlay Life Practice Program. Download a pdf brochure with general details about the Program or click on the one of the locations in the list to the right to get specific details about that particular program. Body Wisdom, Inc., offers CE credits for the Secrets of InterPlay and the Life Practice Program through Commonwealth Educational Seminars for mental health and healthcare professionals. Please check the Commonwealth website for specific information regarding disciplines covered. .
Cost:

$2150. A $100 deposit reserves your place in the Program and a payment of $350 will be due when you register for "The Secrets of InterPlay." Both of t
Registration/Information:

Body Wisdom Office @ 510/465-2797

Venue
Zion Lutheran Church
1501 West Liberty
Ann Arbor, MI 48103
Zion Lutheran Church is located at 1501 W. Liberty Street in Ann Arbor, Michigan. Parking for visitors is located at the North entrance around the circular drive. Additional parking is available at the East and South entrances.
Leaders
Linda Schlabach Miller
Linda Schlabach Miller has been doing InterPlay under the direction of Cynthia Winton-Henry / Phil Porter, since 1988. She was a part of the first away Leadership Training Program and is certified as an InterPlay Leader. She teaches InterPlay in Goshen, Indiana with her partner in play, John Glick under the name SpiritPlay and enjoys the luxury of being invited to regularly use InterPlay forms in worship at her Mennonite Church. In 2007 & 2009, Linda collaborated with Gay Guard Chamberlin from Kalamazoo, Michigan to teach 2 Life Practice Programs in the Michiana area. Linda enjoys telling people that she is a recovering serious person and sighing audibly in public places. She especially enjoyed exforming through sighing in meetings with her corporate colleagues in her "must do this job for money" other professional life.
Barbara K. Toshalis
Barbara has moved and danced in response to an inner spirit, music and Creation most of her life. As a spiritual director and InterPlay Leader she offers SoulPlay to individuals and groups in Michigan. SoulPlay deepens and transforms our bodyspirits, offering healing and joy through play and awareness in movement and stillness.