Dive into the deep body wisdom of InterPlay
Secrets of InterPlay in DC Fall 2017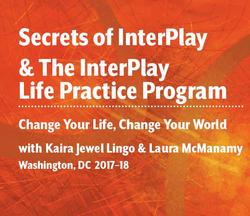 Washington, DC
Fri 9 am to Sun 4 pm • Dec 1–3, 2017
Assisted by Laura McManamy
Learn how you can use the tools and ideas of InterPlay to unlock the wisdom of your body. Get your body, mind, heart, and spirit all on the same page. Learn about yourself through connection and community. Create more ease and fun in your life.
This multiple-day event will give you direct experience in many aspects of the InterPlay system using the power of story, movement and sound and including important tools like Easy Focus, Exformation, Incremetality and Affirmation. It is also an important element of the InterPlay Life Practice Program which will be offered in Washington, DC starting in January of 2018.
Schedule
Friday 9 am – 12 noon, 1:30–5 pm
Saturday 9 am – 12 noon, 1:30–5 pm
Sunday 12 noon – 4 pm
An information session will be held on Thursday, October 26 at 7 pm at Seekers Church (address below.) Join Kaira Jewel to learn more about the program and ask any questions you might have.
Repeating Secrets
Those who have taken the Secrets of InterPlay and/or the Life Practice Program or previous forms of the program, may repeat the Secrets of InterPlay at a significant discount. Brush up on your InterPlay body wisdom and even have a completely new experience!
Cost:
$350 tuition ($250 for repeaters) plus $40 rental costs
Cost:

See above. Contact office (510/465-2797) if registering for entire Life Practice Program or for alternative payment options.
Registration/Information:

Body Wisdom 510/465-2797 or locally Kaira Jewel Lingo 470/257-4589

Leaders

Kaira Jewel Lingo

Kaira Jewel Lingo teaches meditation and mindfulness internationally, with a focus on activists, people of color, artists, educators, families, and youth. She began practicing mindfulness in 1997. An ordained nun of 15 years in Thich Nhat Hanh's Order of Interbeing, she is now based in Washington, D.C., leading retreats in the U.S. and internationally, offering mindfulness programs for educators and youth in schools, as well as individual spiritual mentoring. In addition to her roots in the Zen tradition, she practices and teaches in the Insight tradition and is an affiliate teacher with the Insight Meditation Community of Washington. She explores the interweaving of art, play, ecology and spiritual practice and is a certified yoga teacher and InterPlay leader. She has loved training in dance and other expressive arts since childhood. She edited Thich Nhat Hanh's,

Planting Seeds: Practicing Mindfulness with Children

and has articles and chapters published in numerous magazines and books, including

Real World Mindfulness for Beginners

. Visit

kairajewel.com

to learn more.