Small Group or Individual Sessions Available!
Voice Movement Therapy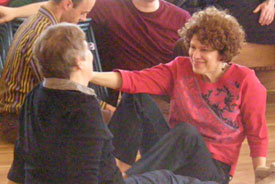 Minneapolis, MN
Individual sessions: 1 hour each, $80 Tues Oct 17, between 1-5 pm Thur Oct 19, between 10-12:30 am Small Group workshop: The Moving Voice: Wed, Oct 18, 1-5pm $80 Small group session (4-6 people) Diving deeper into your voice WHAT IS VOICE MOVEMENT THERAPY, YOU ASK? It is the first in-depth Expressive Therapy which employs the human voice as its main modality and is readily communicable to people of different cultures and backgrounds. It is both creative and therapeutic in that it requires an exploration of oneself and one's issues through the contours of the voice and through the creative enactment of one's personal story in movement and song. (from www.IAVMT.org, where you can find more info)
Cost:
Registration/Information:

Registration required. Contact CathyAnn: soulplayca@gmail.com or 952/212-1161

Venue
Oliver Dance Studio (no sign out front)
#16 East 27th street
Minneapolis, MN
This is a Condo on the corner of 1st Ave South. Come to the front door and ring the studio bell. On street parking is available.
Leaders
Trish Watts
A singer, songwriter, and educator with over 35 years experience as a performer, animator and creative arts facilitator in Australia and overseas. Co-founder of InterPlay Australia, she has completed studies in Voice Movement Therapy in the US. Trish has published over 8 collections of original music. She has been Music Director for both the Sydney and Cambodia Threshold Choirs, groups that sing at the bedsides of those struggling to live and die. She offers workshops and retreats in singing, creativity, spirituality and body wisdom. For more info see the
International Association for Voice Movement Therapy
,
InterPlay Australia Association
, and in the US: www.Interplay.org