JOURNEY INTO BODY WISDOM AND SPIRITUALITY
The Secrets of InterPlay for Spiritual Leaders: Explore the Life Practice Program
Where the Soul Loves the Body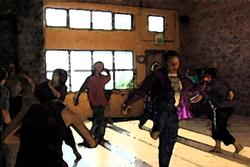 Melbourne, VIC
Sept 24-27, 2018 • Mon 6 pm dinner, 7–9 pm session, Tue & Wed 9:15 am – 4:30 pm. Thursday 9:30 am – 12:30 pm
with InterPlay Australia Leader Stephanie Gesling
Does your leadership include spiritual practices, mindfulness, and deep connection?
Do you relate to a power greater than your self?
Are you seeking a creative, soulful space for reflection, deepening, and spiritual growth?
Would you like simple, creative ways to help those you guide?
Do you recognize our full humanity as key to evolving spiritual intelligence, love, and grace?
If so this retreat welcomes you as a spiritual leader. Beyond tradition or non-tradition the InterPlay framework offers an affirming space to engage, build, and express the spiritual intelligence of your body wisdom through elegantly crafted moments of movement, voice, story, and stillness.
Playfully journey through InterPlay's body wisdom tools for spiritual practice and explore
• How Soul Loves The Body
• Spaciousness as radical, sacred hospitality
• Recovering the Arts as Soul Languages
• Spontaneity as a Signature Of Soul
• The Architecture of Soul as Bigger Than One Body
• How To Bring Wholeness into Ritual and Healing.
Participants may consider the Full Life Practice Program for Spiritual Leaders Components include:
• Three one-to-one mentoring sessions
• Eight online Interactive, live body wisdom trainings (two hours each) Wednesdays from 10-12 with U.S. colleagues Oct-Feb, to deepen connection as we engage creativity for wholeness, creative prayer, ritual and service
• A closing retreat with Phil Porter just before the January Summer Play in Brunswick Heads on "The Art of Collective Peace-making and Ritual."
This program offers certification as an InterPlay Life Practice Program Graduate and qualifies you for Leader Training.
Cost:

$445 USD for Secrets (includes $45 USD cost of food). Housing arranged through Stephanie at segesling@gmail.com
Registration/Information:

Register with Body Wisdom at info@interplay.org to make payment arrangements. Tuition proposals and scholarships are available.

Venue
Habitat SWell Centre
2 Minona Street Hawthorn. Park in Hepburn Street where you'll find 2 hour parking or find an ability car park right outside the door.
Melbourne, VIC
Leaders
Cynthia Winton-Henry
Cynthia Winton-Henry, co-founder of InterPlay with Phil Porter, has researched "what the body wants" in the arts, in jails, shelters, slums, hospitals, churches, businesses, classrooms, doctoral programs in theology and the arts, and in multicultural education. She develops somatic curriculums to address racism, leadership for the Earth, and spiritual intelligence with an eye to supporting millennials. A featured speaker on the Body Intelligence Summit and a keynoter at conferences, Cynthia is the author of What the Body Wants, Having It All: Body, Mind, Heart & Spirit Together Again at Last, Dance: A Sacred Art: Discovering the Joy of Movement as Spiritual Practice, and Chasing the Dance of Life: A Faith Journey,. Currently writing on Body Wisdom and Social Justice and on "Ensoulment," she coaches leaders seeking spiritual intelligence for our time at cynthiawinton-henry.com.