Movement * Story * Stillness * Song, in the spirit of a BodySpirit Celebration
Guests at Home
Welcoming the Sojourner, Inviting the Visitor
Áine deDanaan
and
Judith Reichsman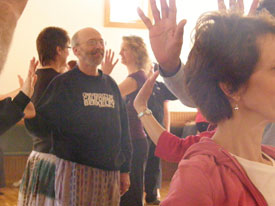 Keene, NH
Sunday, November 18th, 2018, 3pm-4:30pm
Using simple incremental tools of story and movement, stillness and song, participants will explore the layers of what it is to be a guest and to be deeply welcoming, all in an ethic of play. What are the elements of guesthood and hosting? Gratitude? Open-mind and open-heart? Connection, loneliness? Are we guests on this land? Do we fully welcome each other into our own familiar spaces?
Cost:

$10-$20 sliding scale
Registration/Information:

603/283-8816 or aine@innerphoenix.org

Venue
Monadnock Aikikai
152 Davis Street
Keene, NH 03431
Traveling south on Main Street in Keene, turn right on Davis Street. Follow Davis Street all the way to the end (across Ralston Street) and follow the signs to Monadnock Aikikai. There is off-street parking at the facility at no additional charge. Traveling east on West Street, turn right on School Street, right on Emerald Street, left on Ralston, then right on Davis Street and follow the signs to Monadnock Aikikai. Traveling south-west or north-east on Winchester Street, turn right or left (respectively) onto Ralston Street, then left onto Davis Street and follow the signs to Monadnock Aikikai.
Leaders
Áine deDanaan
Áine deDanaan is a certified InterPlay Leader who has been participating in, leading, and working with InterPlay since 2000. She is a wise bodyworker who blends ancient Traditional Chinese Medicine with her own BodyWisdom into her highly skilled bodywork techniques. Áine received her Master's of Divinity from Pacific School of Religion, Berkeley, CA in 2003 where she studied dance & creative arts as tools for transformation and worship, spirituality, dream work, and theology. Áine believes in making meaningful connections with all of the people with whom she works. She brings a multitude of skills, as informed by her life experiences and education, to her bodywork and InterPlay teaching.
Judith Reichsman
Judith Reichsman met InterPlay co-creators Cynthia and Phil at an InterPlay workshop in Berkeley, CA in 1989. She became an 'ecstatic follower' within a week of being introduced to it. She moved to Berkeley to go to Grad school where Cynthia was teaching so that she could to do more InterPlay and learn to teach it. Years later, she moved to North Carolina in order to do more InterPlay, and after 3 years of performing with interPlay NC's OFF THE DEEP END, moved back to Vermont to find 'InterPlaymates' there. She has Masters degrees in Dance and Theology and loves both leading and following, fullness & stillness, writing and playing.