Spend a little time with me.
Randy Newswanger Birthday Party!
And InterPlay!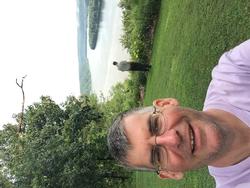 Lancaster , PA
May 11, 2019 at 109 Coral Street in Lancaster
Bring your whole family! Drop in any time!

9 a.m.- Noon: Fruit, yogurt, pancakes and waffles

2 p.m. InterPlay on the deck

All afternoon: Relax.

5 p.m. - 7 p.m. some kind of vegetarian supper, perhaps rice and curries.

Cost:

Free
Registration/Information:

r.s.v.p. helpful but not required 415/596-8180

Leaders

Randy Newswanger

Randy has a B.A. Physics from Goshen College and an M.Div, from Starr King School for the Ministry in Berkeley with an emphasis in religion and social change. His experience includes teaching high school math and physics, working in philanthropy, and turning doodles into fine art prints. He desires to build just and sustainable communities, subscribes to a summer produce box, and tries to incorporate InterPlay philosophy as a core decision making tool in his life.