Contact Us
InterPlay & Body Wisdom, Inc.
Body Wisdom, Inc., is the not-for-profit incorporation that coordinates InterPlay activity. The national InterPlay office is located at "InterPlayce" in Oakland, California.
InterPlay/Body Wisdom
2273 Telegraph Avenue
Oakland, CA 94612
510/465-2797
info@interplay.org
fax: 510/836-3312

Body Wisdom, Inc. Staff
Co-Directors Cynthia Winton-Henry & Phil Porter
Administrator Stephanie Pile
Administrative Assistant Lucia Poole
Send an Email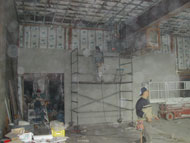 The dance studio at InterPlayce as it was being created in 2004.