New to InterPlay?
A Video Intro to InterPlay
InterPlay is a powerful tool to change people's lives.
But it is hard to describe. Once someone described it as "sneaky deep". It can be both playful and profound. It uses forms associated with the arts—movement, storytelling, voice and stillness—but does it in ways that don't require particular skill or even nerve.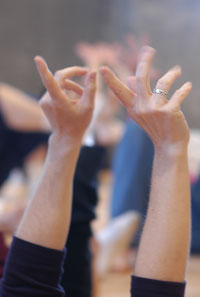 InterPlay is easy and incremental. The things that you might be asked to do are things that almost anyone can do. We don't generally put people on the spot or intentionally make people do silly things. Of course, if you are already down with being silly—which is a wonderful version of openness—you will have plenty of opportunities to go for it.
Read about InterPlay's Commitment to Racial Equity & Transformation.
InterPlay invites folks into the present. We learn to create alone and together on the spot. SHY?We find that there is so much we can do without much planning. The simple and clear structures of InterPlay create a wonderful freedom. We are constantly looking for ease in life.
InterPlay celebrates and creates connection and community. Through this simple sort of play we learn more about ourselves and each other.
LAUGH!But enough with the paragraphs.
The purpose of this page is to give you impressions of InterPlay in a variety of ways. Take a look around this page and the rest of the site to see what you think. Then check us out! The best way to find out about InterPlay is to try it. There are a number of free or inexpensive ways to do that.
Why Do InterPlay?